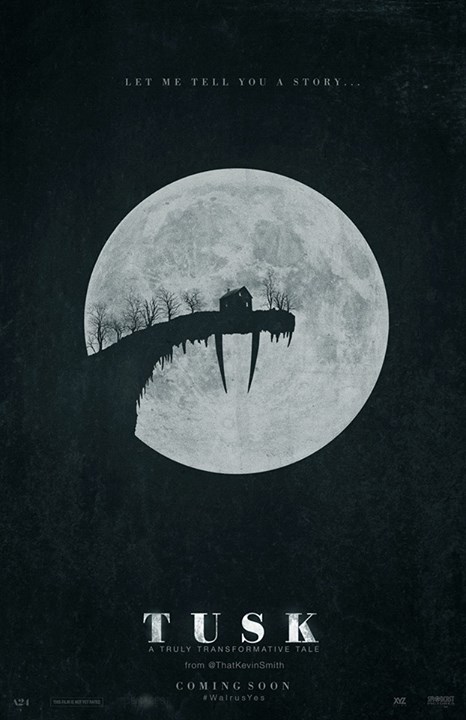 Kevin Smith's Facebook page for Tusk seems to be the place to be these days to get the latest scoop on his upcoming horror movie that was conceived one year ago in a conversation with Scott Mosier on the 259th episode of SModcast. Exactly a year later, Tusk is being directed by Mr. Smith from a script he wrote that will star Justin Long (Jeepers Creepers) as Wallace the journalist, and the first official poster has been revealed.
Here is what Kevin had to say about it:
One year ago from this moment, I was writing a script based on a then-recent episode of SModcast. One year later, I present to you the poster for the actual movie! At http://TuskTheMovie.com/ you can hear a truncated version of the podcast from whence the picture came, SModcast 259: The Walrus & The Carpenter. I'll show the first trailer in 2 weeks, during my Hall H panel at Comic-Con. A24 releases the flick in the states this fall, with Sony International handing lots of the distribution in the non-U.S. marketplace.

WHAT DO YOU THINK? I am in love with the poster. Captures the movie perfectly. Big thanks to the folks at Ignition who designed it!
Tusk drops in theater sometime this fall.
---
About Tusk
TUSK follows Wallace (Long) a journalist on a mission. He finds the story of a lifetime in Mr. Howe (Parks), a worldwide adventurer with amazing tales and a curious penchant for walruses.