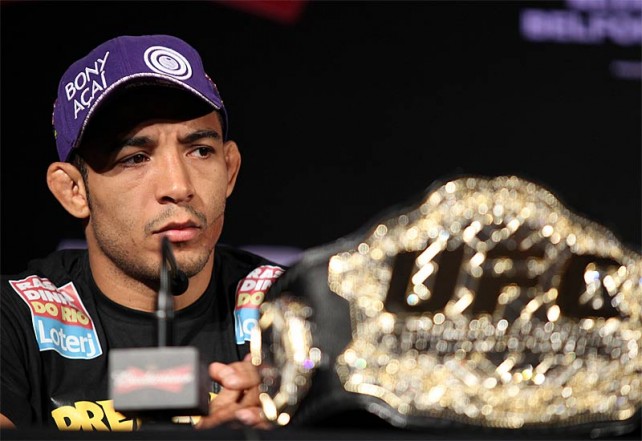 Oh boy! Here comes more damaging news about fighter pay in the UFC, but this time it comes from a well known champion from Brazil. You know him because he dominated Urijah Faber back in the WEC days, and he defeated top ranked UFC fighters for years like Frankie Edgar, Chad Mendes, Kenny Florian, and Cub Swanson, just to name a few.
His name is José Aldo, the longest reigning and only UFC Featherweight Champion ever since the merge with WEC, and "Scareface" feels under paid in the UFC. In fact, he feels "devalued", according to an ESPN interview.
In that interview, Aldo recognizes the language barrier, but doesn't believe it should affect his UFC salary:
I do feel devalued, for sure. Every fighter dreams to reach a level where he will make good money. I have other thoughts nowadays – I've been around the world, I have a big wide vision about that. At the same time that they give us our business, they could improve it (payment). We bring millions for the company, I'm a very sellable fighter and everybody wants to watch my fights.

We see a lightweight being paid as much as a beginner. We see a heavyweight non-champion and non-title challenger earning a lot more than us. This situation makes us a little sad but I have to keep battling, we can't lose our focus.
I don't know, man. We kill ourselves in training, we give the best of us to be there give the people a show, bring records to the UFC. We give everything we have but we don't get the recognition we deserve. I don't know what we have to do, if we need to step in there and kill the other guy, I don't know.
On language barrier…
I don't know if that is the case. We can feel that it can be bad for guys like me, Renan Barao and Anderson Silva because we can't speak English fluently. What matters inside there is how we fight, not the language.
We have to negotiate. Who takes care of this for me is Dede Pederneiras. I'm there to give what people want to see.
"Scarface" returns inside the Octagon for a title defense against Chad Mendes that is expected to take place on August 2, 2014 at UFC 176.