Hailing from Calgary, Alberta, Throne of Vengeance delivers an infectious blend of Thrash Metal and Hard Rock. Check out their hybrid style in the "Live Evil" video above.
Speaking of the video, the band, in collaboration with Fedele Arcuri of ARC media and Damien Mustaphi of Indie403, did a fantastic job of using their resources. Lord knows that when there's a limited budget that it's tough to avoid the "band playing in a warehouse" type of video, but for the most part Throne of Vengeance has done so here. At the same time, a visual representation of the lyrics was established in the video: Consider your actions, because making the wrong choice can bite you in the ass.
What's that? A Metal band with a conscience? Oh, right… they're Canadian!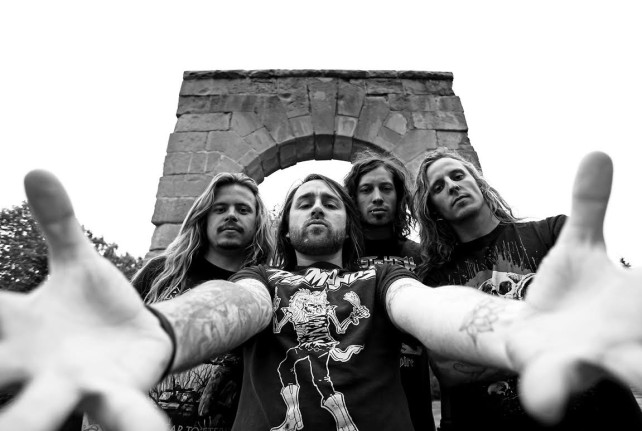 As for the song itself, I enjoyed the slowed tempo, the drummer's (Trevor Cobb) groove, and the dueling guitars (Tommy Holt and Brady Side). Maybe it's the fact that I listened to this before 9 a.m., but I found "Live Evil" to be completely relaxing. Nonetheless, it's a great jam with a distinctive Canadian metal sound — actually, it had me thinking of Killer Dwarfs.
Order Throne of Vengeance, Live Evil on Amazon: MP3 – $6.93
I'm not the only one discovering an appreciation for Throne of Vengeance; the Canadian's are finding a rapidly growing fanbase in their native land's West Coast, so much so that they've had to add a second date to their stop in Vancouver, BC. And don't forget that the band will also be performing at this year's Calgary Metal Fest on June 4th. See list of dates below.
Trevor Cobb spoke of the additional date in Vancouver:
In light of our recent growth in the Vancouver music scene, we have added a second date to our West Coast run. We are thrilled to be playing both The Media Club on Friday June 6th with One Life Animal, Ak-747, and guests, and Funky Winkerbeans on Saturday June 7th with Dead Asylum, Blacked Out, and Lethal Halo.
Throne of Vengeance Show Dates:
June 4 – Ship & Anchor – Calgary, AB – Calgary Metal Fest
June 6 – Media Club – Vancouver, BC
June 7 – Funky Winkerbeans – Vancouver, BC
Don't forget to check out Throne of Vengeance's video for "Black Eye":

Rock Hard \m/