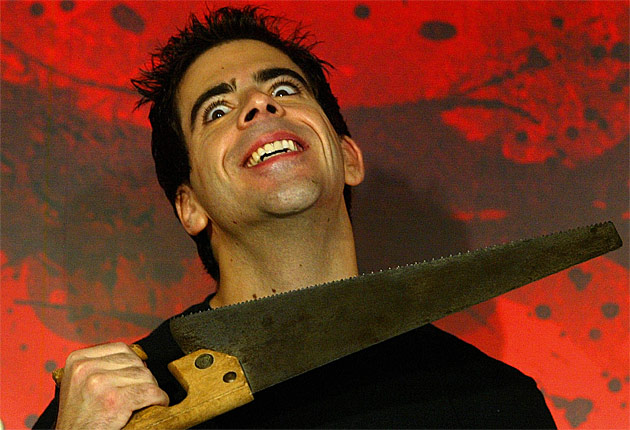 Count me among the people who kind of enjoyed Eli Roth's Hemlock Grove. I know the reviews of it were extremely mixed, but even at its most outlandish and dumb, it never winked at us and said "But hey, it's the horror genre! It's dumb sometimes!" and tap danced away. It was sincere, and I will take sincerity over the second season of American Horror Story any day.
And now, Eli Roth is back with his second horror TV project South of Hell, from Sonar Entertainment and Blumhouse Television. Set to premiere on WE tv in 2015, South of Hell tells the story of thirty-year-old Maria Abascal, a skilled demon hunter for hire in Savannah, Georgia. She, along with her brother David, hunt and exorcise demons in order to satisfy the demon inside of herself, one named Abigail. The first episode will be directed by Roth, and the first season will run for eight, sixty minute episodes.
The first episode will be written by Matt Lambert, and the show will be executive produced by Jason Blum (Paranormal Activity, Sinister, Insidious) and James Manos Jr., who will also serve as show runner. Manos Jr. is very familiar with the genre of "people trying to satisfy inner demons by killing outer demons" as he was an executive producer on Dexter, though, hopefully, South of Hell won't have nearly as many scenes of that inner demon standing over the protagonist's shoulder, whispering "But remember your code…" The show is also executive produced by Gene Stein, Gerard Bocaccio, Stewart Till, and Roth.
I like that Roth is trying to involve himself with all of these projects, whether he's writing, directing, acting in, or producing them. I dig that kind of dedication to the genre. Some of these projects may fail, but hey, that's how it goes. And we need more people who want to do it all.