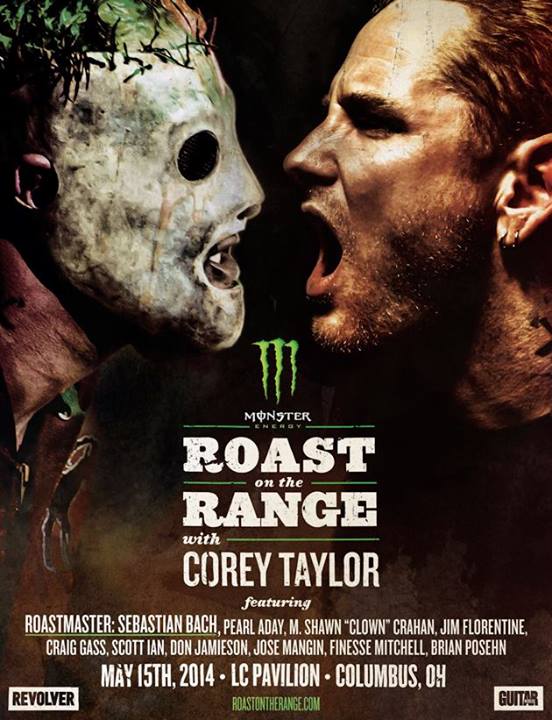 The news that Slipknot's (and Stone Sour's) frontman, Corey Taylor, is to be roasted has been kicking around for a few months. Now we're just days away from the May 15th event at Roast on the Range With Corey Taylor held at LC Pavilion in Columbus, Ohio.
The fact that Taylor is getting roasted is also surprising; surely there are other notable rock icons deserving of the honor before him. But then you consider the facts that Taylor fronts two very successful bands (hardly seems fair, does it?), and that Stone Sour formed in 1992 and Slipknot in 1995. Collectively, that's 41 years of experience in the industry. It's also true that in a lot of ways Taylor and Slipknot reinvigorated interest in heavy music, providing catharsis without being whiney emo bitches about it. Consider all that, and it begins to make sense that Taylor should be honored in such a humiliating way.
An all-star cast will be providing the humiliation at the event: Roastmaster Sebastian Bach, Brian Posehn, Craig Gass, Don Jamieson, Finesse Mitchell, Jim Florentine, M. Shawn "Clown" Crahan (Taylor's Slipknot bandmate), Jamey Jasta (Hatebreed), Pearl Aday, and Scott Ian (Anthrax). Jose Mangin (SiriusXM/Headbangers Ball) will be the evening's official DJ and emcee.
If tickets are still available, you make make your purchase at: www.ticketmaster.com
If you can't be there, but would still like to be in the know, Adrenaline 101 Radio and The Heavy Metal ICU will be covering the Red Carpet and the Roast.
Rock on the Range takes place May 16th-18th and it has an incredible lineup, including Guns N' Roses, Down, Lacuna Coil, Black Label Society, Killswitch Engage, and more. Check the official site for more.
Earlier this year, Taylor expressed his excitement and apprehension to Rolling Stone:
I'm a little nervous, a little excited, and of course a little gassy. But that could just be the excitement. I'm really looking forward to it, but knowing my friends and the possibilities for who could be a part of this, I have no idea what I'm getting into.
What do you think: Is it too soon to roast Corey Taylor?
Rock Hard \m/