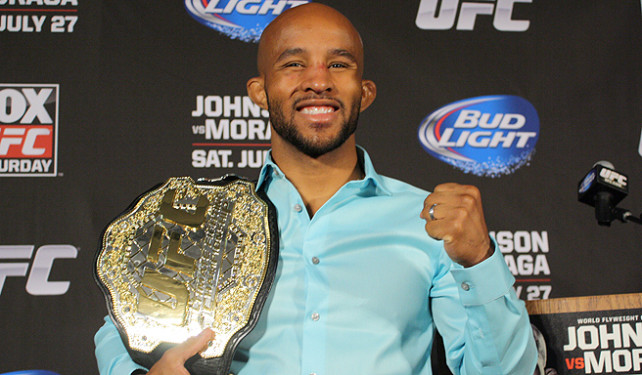 The Ultimate Fighting Championship (UFC) organization makes its long-awaited return to Vancouver when the world's Number 5-ranked pound-for-pound mixed martial artist, UFC flyweight champion Demetrious Johnson, faces Russian contender Ali Bagautinov at Rogers Arena on Saturday, June 14th. The UFC announced today that tickets for this 5-round championship bout go on sale to the general public on Saturday, April 26th, at 10 a.m. PST. At 27 years old, Johnson (19-2-1, fighting out of Parkland, Washington) is one of the fastest and most technically sound fighters on the planet. Making his 5th title defense, he is the first flyweight champion in UFC history and is currently riding a 6-fight win streak (5-0-1).
Meanwhile, Bagautinov (13-2, fighting out of Dagestan Republic, Russia) is undefeated in his UFC tenure after earning impressive wins against Marcos Vinicius, Tim Elliott, and John Lineker en route to his flyweight title shot. The 28-year-old fighter has recorded 11 straight wins since 2011, finishing 7 of his opponents in the process.
In addition to the flyweight title bout, 2 top-ranked welterweights will battle for title contention in Vancouver when the division's second-ranked competitor and Quesnel, B.C.-born Rory MacDonald (16-2, fighting out of Montreal) meets the explosive Tyron Woodley (13-2, fighting out of St. Louis, Missouri), who's the 4th-ranked UFC welterweight.
Other bouts for UFC 174 include:
Kajan Johnson (19-10-1) vs. Tae Hyun Bang (16-8).
Yves Jabouin (19-9) vs. Mike Easton (13-4).
Roland Delorme (9-2, 1 NC) vs. Michinori Tanaka (9-0).
Kiichi Kunimoto (16-5-2, 1 NC) vs. Daniel Sarafian (9-4).