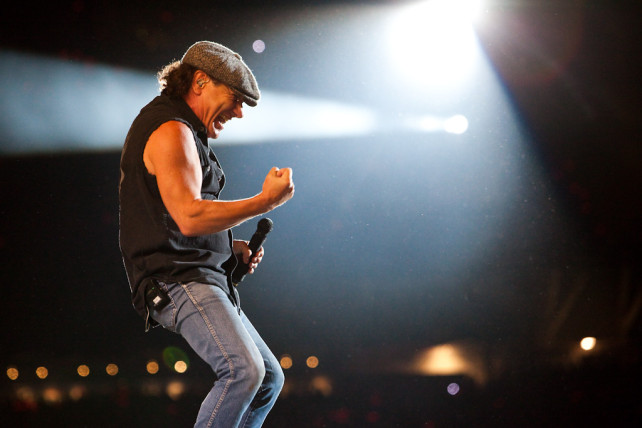 AC/DC frontman, Brian Johnson, says that the band isn't retiring, that they will enter the studio in May, and that a 40-year anniversary tour would be a nice way to say "bye-bye."
Following the rumors that ran rampant yesterday, Johnson spoke with Jake Wallis Simons of The Telegraph to set the record straight. However, he wouldn't precisely say which brother, Malcolm or Angus Young, was ill or share any of the details because that person values his privacy. The leading, unconfirmed rumor about the ailing brother is that it's Malcolm and that he suffered a stroke last month.
About the possibility of the band recording a new album, Johnson said:
We are definitely getting together in May in Vancouver. We're going to pick up some guitars, have a plonk, and see if anybody has got any tunes or ideas. If anything happens, we'll record it.
Additionally, he commented on the potential for a 40th anniversary tour, with 40 shows in 40 cities:
That would be a wonderful way to say bye bye. We would love to do it. But it's all up in the air at the moment.
This bodes well if your'e an AC/DC fan, but for now we're just hoping for health and a speedy recovery for Malcolm (or whichever Young brother is ill). If AC/DC does retire, now or after the 40th anniversary tour (if that happens), we're thankful for the great tunes and years of true rock and roll.
Rock Hard \m/