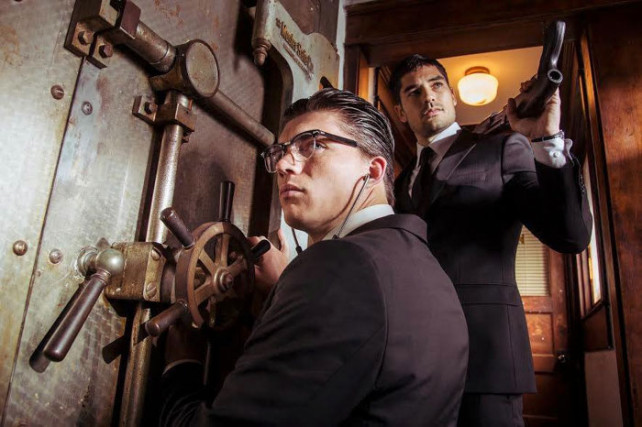 Can you really say no to the famous Big Kahuna Burger comboed with the very first episode of From Dusk Till Dawn: The Series on the big screen?
I hope not because fans of the Dusk Till Dawn franchise can experience this one in a lifetime special treat this month. If you are a lucky one that lives near a Alamo Drafthouse theater, then do yourself a favor right now and get yourself a bloody ticket for any of the participating theaters listed below.
The premiere of the first episode will take place on Tuesday, March 11th, so you have some time to think it over, but don't take your sweet ass time since I'm sure tickets will sell out fast. Following the screening, Robert Rodriguez with the cast of the series, including Drafthouse founder/CEO Tim League will host a live Q&A that will be livestreamed at the theaters.
From Dusk Till Dawn: The Series will also debut on the El Rey Network on the same day at 9:00 P.M.
---
Participating Theaters:
Austin, TX
http://drafthouse.com/movies/from-dusk-till-dawn-the-series/austin
Houston, TX:
http://drafthouse.com/movies/from-dusk-till-dawn-the-series/houston
San Antonio, TX:
http://drafthouse.com/movies/from-dusk-till-dawn-the-series/san_antonio
New Braunfels, TX:
http://drafthouse.com/movies/from-dusk-till-dawn-the-series/new_braunfels
Kansas City, MO:
http://drafthouse.com/movies/from-dusk-till-dawn-the-series/kansas_city
Littleton, CO:
http://drafthouse.com/movies/from-dusk-till-dawn-the-series/denver
Yonkers, NY:
http://drafthouse.com/movies/from-dusk-till-dawn-the-series/nyc_area
Winchesterm, VA:
http://drafthouse.com/movies/from-dusk-till-dawn-the-series/winchester
Ashburn, VA:
http://drafthouse.com/movies/from-dusk-till-dawn-the-series/northern_virginia