The Lacuna Coil promo machine has started rolling. Nearly two weeks after the release of "Nothing Stands in Our Way," the first taste from the Italian metal band's upcoming album, Broken Crown Halo, Lacuna Coil has unleashed another single. Starting today, "Die & Rise" can be purchased on iTunes. (I've also included the YouTube posting in the player above for your convenience.)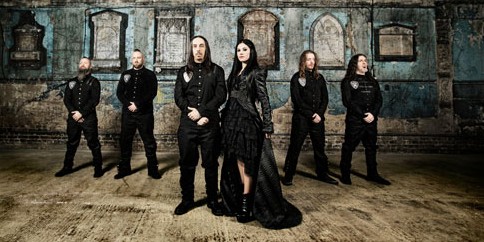 Both songs are good, nothing to get overly excited about, and if I had to choose which one was better, I'd go with the former, "Nothing Stands in Our Way."
In some slightly older, but related news that we haven't reported on, Lacuna Coil will move forward without two longtime members. Guitarist Cris "Pizza" Migliore and drummer Cristiano 'Criz' Mozzati have left the band, both of whom have claimed the desire to spend more time with their respective families as the reason for their leaving. Both members made statements through the band's Facebook page:
Migliore's statement:
From Pizza:
Dear friends,

After over 16 years spent with the LACUNA COIL family, I decided to move on and begin a new chapter in my life. This hasn't been an easy decision, as you can imagine, but I felt like I needed to change some things around.

I'm glad and honored that I've had the chance to be able to embark on such an amazing adventure, with such wonderful people as "travel companions"! I will never forget my time in LACUNA COIL and I wish my sister and brothers all the best for whatever the future may bring.

I'm sure you understand! I would also really like to thank every single one of you for showing such amazing love and support for a small band from Milan, Italy, who would've never thought would become what it has during these incredible 16 years. Thank you all and enjoy this last record we did with me and CriZ as part of the line-up – it's some of the best music we've done and I'm sure you'll love it!

Keep on rockin'!!
Cris "Pizza" Mozzati's statement:
From CriZ:
Hey Coilers,

As many of you guys and gals know, during this last year lots of very important things happened in my life – something really amazing, and deep enough to make me sit in front of my laptop to write these bittersweet words…

I'm leaving my "second family" LACUNA COIL because I need this change in my life… this hasn't been an easy decision at all and I've come to it with pain in my heart, because together we laughed and cried; we fought and gave all our lives to this amazing band. Together we lived the dream for 16 wonderful, intense and unforgettable years. All you guys around the world gave me such positive and sincere vibes and emotions that will stay embedded in my heart for the rest of my life! I want to say thank you Coilers, friends, crew, partners, and people that listen to our music for being such an inspiration for me. To my brothers and sis I'd like to say the following: Never stop to kicking asses, you sure know how to!

The new record is the best thing we've done together. I have put all my passion and feelings into it and I'm sure you'll love it. I'll never stop playing drums – as we all know, if you were born with rock inside your veins, you'll die with it… and this is what I will do.

Take care and stay Coilers!
CriZ

To reassure fans of Lacuna Coil that there is a future, Century Media confirmed the band's future tour and presence on the Revolver Hottest Chicks in Hard Rock Tour, which commences on February 20th, in Wilmington, North Carolina. Also on the tour are Sick Puppies, Eyes Set to Kill, and Cilver.
Broken Crown Halo will be released on April 1, 2014, in North America (March 31st in Europe, Australia, New Zealand).
Rock Hard \m/