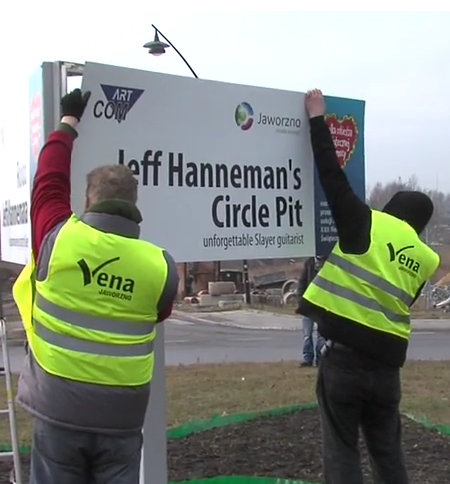 He might have been snubbed at the 2014 Grammys' "In Memoriam" presentation, despite Slayer having won Grammy Awards in the past, but Jeff Hanneman has been fondly remembered by millions of metalheads around the world. And now, in a moment of triumph over any remembrance the Grammys could have bestowed, the late founding guitarist of Slayer has been honored in Jaworzno city in Poland by naming a roundabout after him.
The sign was unveiled yesterday, February 6th, and upon closer inspection you'll see "unforgettable Slayer guitarist" printed below his name.
The roundabout will remain named as Jeff Hanneman's Circle Pit for one year as the result of an auction for The Great Orchestra Of Christmas charity. The money collected goes toward the purchase of specialized equipment for children's emergency medicine and deserving health care of seniors.
Now, who doesn't want to go live in Poland?
Here's a Polish news report about the naming of the roundabout:
Rock Hard \m/