East of the Wall, the progressive metal act coming out of New Jersey, has just confirmed a co-headlining tour with Diamond Plate. Buried within the string of dates are confirmed appearances at SXSW and Treefort Fest. All in all, East of the Wall will be on the road for five solid weeks on the Redacted Pulse Tour in support of their latest release, Redaction Artifacts. See below for the full list of dates.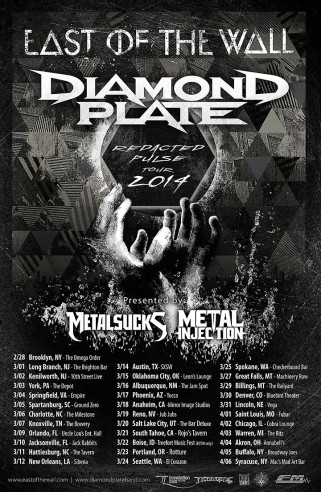 MetalSucks and Metal Injection are sponsoring the tour, which will take East of the Wall to MetalSucks' fourth annual South By South Death in Austin, Texas. Animals As Leaders, After The Burial, Ringworm, Iron Reagan, and Whores are also playing the event.
If you feel like being a hippie for four days, head to Boise, Idaho, for the Treefort Fest. Here, East of the Wall will be joined by such acts as ubRosa, Eagle Twin, Built To Spill, This Will Destroy You, and more.
If you're unfamiliar with East of the Wall, and you know you are if you thought they were a German band, check out their latest video for "Obfuscator Dye" in the player above.
East of the Wall Redacted Pulse Tour w/ Diamond Plate:
2/28/2014 The Omega Order – Brooklyn, NY
3/01/2014 The Brighton Bar – Long Branch, NJ
3/02/2014 10th Street Live – Kenilworth, NJ
3/03/2014 The Depot – York, PA
3/04/2014 Empire – Springfield, VA
3/05/2014 Ground Zero – Spartanburg, SC
3/06/2014 The Milestone – Charlotte, NC
3/07/2014 The Bowery – Knoxville, TN
3/09/2014 Uncle Lou's Entertainment Hall – Orlando, FL
3/10/2014 Jack Rabbits – Jacksonville, FL
3/11/2014 The Tavern – Hattiesburg, MS
3/12/2014 Siberia – New Orleans, LA
3/14/2014 MetalSucks South By South Death Showcase – Austin, TX (EOTW only)
3/15/2014 Leon's Lounge – Oklahoma City, OK
3/16/2014 The Jam Spot – Albuquerque, NM
3/17/2014 Yucca – Phoenix, AZ
3/18/2014 Mirror Image Studios – Anaheim, CA
3/19/2014 Jub Jubs – Reno, NV
3/20/2014 The Bar Deluxe – Salt Lake City, UT
3/21/2014 Rojo's Tavern – South Tahoe, CA
3/22/2014 Treefort Music Fest (EOTW only) – Boise, ID
3/23/2014 Rotture – Portland, OR
3/24/2014 El Corazon – Seattle, WA
3/25/2014 Checkerboard Bar – Spokane, WA
3/27/2014 Machinery Row – Great Falls, MT
3/29/2014 The Railyard – Billings, MT
3/30/2014 Bluebird Theater – Denver, CO
3/31/2014 Vega – Lincoln, NE
4/01/2014 Fubar – Saint Louis, MO
4/02/2014 Cobra Lounge – Chicago, IL
4/03/2014 The Ritz – Warren, MI
4/04/2014 Annabell's – Akron, OH
4/05/2014 Broadway Joe's – Buffalo, NY
4/06/2014 Mac's Mad Art Bar – Syracuse, NY
Rock Hard \m/