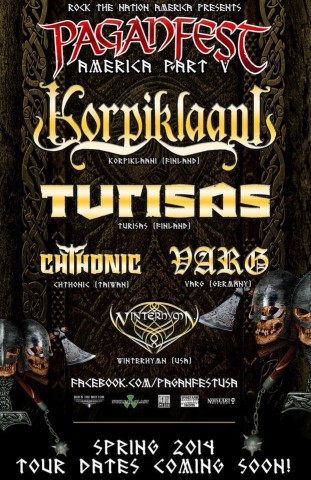 Rock the Nation America recently announced the 2014 Paganfest America lineup. If you've ever seen a past Paganfest tour, then you know that the tour has hosted such bands as Ensiferum, Turisas, Alestorm, Tyr, Trollfest, and Heidevolk.
Folk metal has been growing considerably over the past 20 years, debuting as early as the early '80s. Paganfest America, however, has only been up and running since 2009, but it has been putting top-of-the-line folk metal acts on the stage ever since.
Headlining this year, in 2014, is Korpiklaani. Korpiklaani, which is Finnish for "Wilderness clan," is obviously from Finland, and were formerly known as Shaman. Formed as early as 1993, the band has seen two different name changes, ultimately finalizing on the current name. The band didn't just change it's name, they also changed their music. The traditional yoik vocals and the use of the Sámi language were dropped, and the synthesizer was replaced with real folk instruments. Their current lineup has 6 band members, after having seen 16 members come and go.
Supporting acts on this year's festival are Turisas, also from Finland, Chthonic from Taiwan, Varg from Germany, and Winterhymn from the U.S. Quite a good supporting lineup if you ask me.
Folk metal has been growing strong on me over the years since 2011, when I was first introduced to Ensiferum. Although tour dates haven't been announced yet, I'm quite sure they will be very soon. Typically the tour lasts no more than a month and isn't more than 20 or so shows. Keep a lookout for tour dates coming soon.