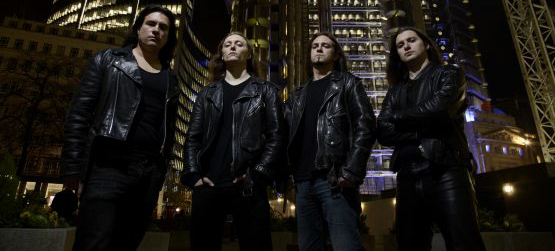 English Shredders Savage Messiah will return in 2014 with their fourth studio album, The Fateful Dark. With Dave Silver's distinctive vocals, ridiculously catchy riffs and a superb production by Scott Atkins (Amon Amarth, Sylosis, Behemoth), The Fateful Dark is a heavy metal masterpiece that's sure to feature highly in the top metal albums of 2014.
The album is available as a standard CD or on a deluxe gatefold vinyl, the latter of which comes with a bonus 10" vinyl featuring four awesome cover versions of Iron Maiden, Diamond Head, Motorhead, and Metallica. The color vinyls are exclusive to the Earache Webstore, with the clear 12″ and 10" being limited to just 100 copies.
As an added extra for Earache Webstore customers, all pre-orders for this stunning album will come with a bonus disc containing three of the afore-mentioned covers. This bonus disc is the only way to get these tracks on CD, and is limited to one pressing only!
Stay tuned to Yell! Magazine for more on Savage Messiah's The Fateful Dark.
Rock Hard \m/