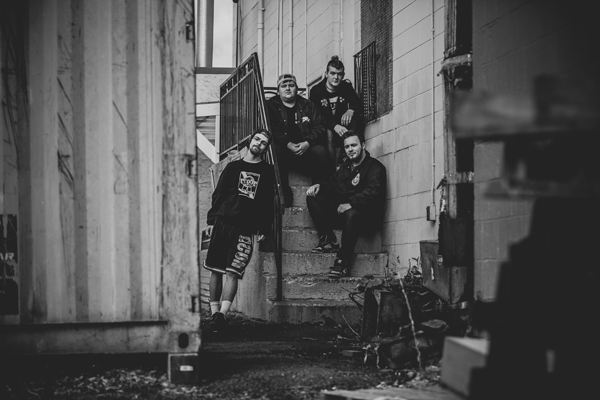 Lucid Skies is currently allowing a stream of their upcoming EP, Hounds. So check it out before it gets disabled, and once you realize that you're addicted, then go buy the EP on November 26th.
As I stated in the write-up about Hounds' first track, "Shotgun Mouthwash," this shit is blistering awesome. It's also a masterful blend of traditional hardcore and wicked thrash metal riffing. After hearing the full EP, I can confidently say that of all four tracks.
While the first two tracks, "Shotgun Mouthwash" and "Left Hook," are more of the straight-forward, traditional-leaning efforts, Lucid Skies makes sure it's known that they are from the here and now on "With Eyes" as they incorporate some nontraditional sound effects (hardly noticeable). "With Eyes" also has a surprising bass solo that hearkens back to some '80s-era hardcore, almost reminiscent of Suicidal Tendencies. The final track, "Count Me Out," shares the traditional elements of the first two tracks, but its where the Hatebreed influence can really be heard, lyrically.
Incidentally, Edmonton, Alberta's Lucid Skies names Hatebreed as major influence on their lyrics, vocals, and melodies. Other influences include Comeback Kid and Holly Springs Disaster.
I suggest you listen to the stream, buy the EP, and check Lucid Skies out on tour (dates below). I don't think you'll be disappointed if you're a hardcore fan.
Lucid Skies – Hounds track listing:
1. Shotgun Mouthwash
2. Left Hook
3. With Eyes
4. Count Me Out
Western Canadian tour dates:
November 25, 2013 – Slumland Theatre – Red Deer, AB
November 26, 2013 – Verns – Calgary, AB
November 27, 2013 – TBA – Saskatoon, SK
November 28, 2013 – Humbolt Complex – Humbolt, SK
November 29, 2013 – Swan Valley Regional – Swan River, MB
November 30, 2013 – Elice Theatre – Winnipeg, MB
December 1, 2013 – Park Community Centre – Brandon, MB
December 2, 2013 – The Club – Regina, SK
Rock Hard \m/