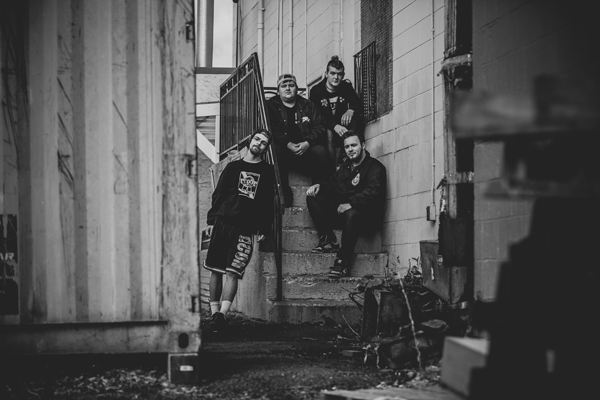 If you're in the mood for something blistering awesome, then you gotta check out Lucid Skies' new track "Shotgun Mouthwash." Combining elements of traditional hardcore with some wicked thrash riffing, the track comes off the band's new four-track EP, Hounds, which hits the streets on November 26th.
Check out "Shotgun Mouthwash" for yourself:

I can't get enough of this track!
From the intro to the way it just jumps into intensity to the early thrash breakdown, this song is massive in every aspect. It's surprising that it clocks in at just over four minutes, but nothing is wasted (except your ears) and there's not a shitty moment in the song.
Hailing from Edmonton, Alberta, Lucid Skies will embark on a Western Canadian tour with Bonfire starting on November 21st. See the tour dates below.
Jesse Berger, Lucid Skies' guitarist, commented on all that's going on:
We couldn't be more excited to announce the release of our new EP and our Western Canadian tour with our good friends Bonfire. We put a lot of effort into this EP and can't wait to get it out there to the provinces we haven't had the pleasure of touring yet.
Hounds – track list:
1. Shotgun Mouthwash
2. Left Hook
3. With Eyes
4. Count Me Out
Lucid Skies tour dates:
November 21, 2013 – Avenue Theatre – Edmonton, AB
November 22, 2013 – Funky Winkerbeans – Vancouver, BC
November 25, 2013 – Slumland Theatre – Red Deer, AB
November 26, 2013 – Verns – Calgary, AB
November 27, 2013 – TBA – Saskatoon, SK
November 28, 2013 – Humbolt Complex – Humbolt, SK
November 29, 2013 – Swan Valley Regional – Swan River, MB
November 30, 2013 – Elice Theatre – Winnipeg, MB
December 1, 2013 – Park Community Centre – Brandon, MB
December 2, 2013 – The Club – Regina, SK
Rock Hard \m/