Who doesn't love zombies on Halloween? Yes, there's a definite surplus of them in our current culture, but they have quickly become the go-to standard for dressing up, Halloween or not. Consider the zombies at various Comic-Cons throughout the country and the uprising of zombie walks in major cities. Yes, the zombie phenomenon has eclipsed the traditional monsters of yore.
Most people know that George A. Romero wasn't the first man to direct a zombie movie, that honor often goes to Victor Halperin for his film White Zombie (1932), but he is responsible for our modern understanding of the undead. In 1968, Romero started the zombie craze, although it would take years for that craze to get going. The film received quite a bit of criticism back in the day for its content, which was likely a contributing factor (among many others) to Romero pursuing its sequel, Dawn of the Dead (1978).
Once again, Romero made a social commentary/observation with his new film. Where Night addressed racism, Dawn dealt with consumerism, and what better place to set your film than in a shopping mall, a relatively new concept in 1978. Besides being the elephant in the room for the commentary, a mall also serves as the perfect backdrop for building your own fortress and supplying your small army. As with his previous film, Romero struck box office gold with his second film in the Dead franchise.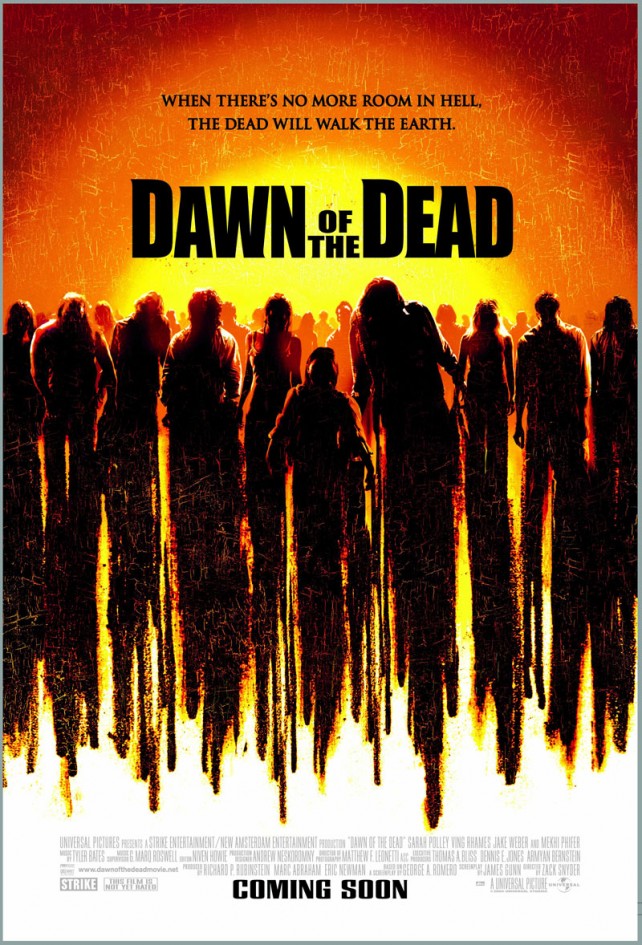 In 2004, Zack Snyder took a crack at remaking Dawn of the Dead. In general, I think fans/audiences were, and still are, split about this remake. A lot of people point to the speed of the zombies as a major issue. I personally love it and think that the opening sequence before the credits roll is one of the best ever filmed. While the social commentary on consumerism isn't as present, focusing more on our individuality and our guarded isolation from one another, Snyder kept the mall setting — you just don't fuck with perfection.
Either of these films are perfect viewing for your 31 Days of Scares with Yell! Magazine. However, if you really want that retro, classic vibe of the Universal Monsters, I recommend viewing the 1968 original, Night of the Living Dead.
And since we're here partially because of the movie posters, which do you prefer: Dawn of the Dead 1978 or Dawn of the Dead 2004?
Rock Hard \m/