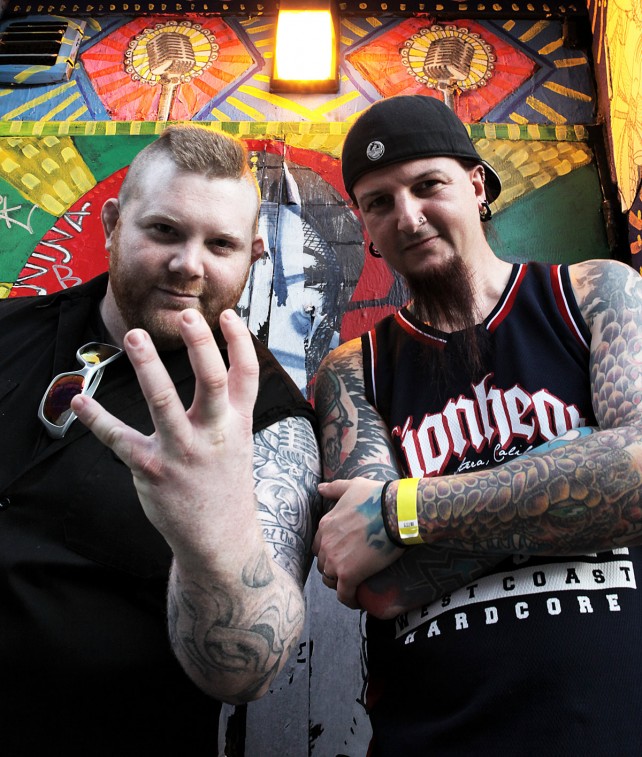 Not so long ago, before we invaded Fantasia 2013 in Montreal and drowned ourselves in movie heaven, we interviewed Montreal's own BornBroken. The city was in the midst of a very humid heat wave, and we were sweating like a couple criminals on the lamb. Yet Mike Dekker and Matt Bailey seemed as cool as cucumbers, even if Bailey was about to make his debut as the band's new vocalist.
That's right, shortly after the June 4th release of the band's first album, The Healing Powers of Hate, vocalist Jesus Salazar had to leave the band for personal reasons. Eager to step in was Matt Bailie. After watching BornBroken open for The Agonist, all we can say is that Matt didn't lie when he said that he brings his own flavor to the band.
For the record, I love The Healing Powers of Hate. I think it's a phenomenal debut album. However, the live performance didn't live up to my expectations. I will say, however, that I was disappointed with the sound of every band that night, so it likely had something to do with the venue. Unfortunately, for whatever the reason, contrary to what Mike says in the interview below, the live performance buried Matt's vocals and Tommy Vaillancourt's bass guitar.
Now onto the BornBroken interview:
---
No.1 Congrats on a great debut record, The Healing Powers of Hate. Can you tell us how it came together?
Mike: It took about two and a half years for the album to come together. We had a couple drummer changes and a couple singer changes, and now again another singer change. The black cloud seems to follow us, so the name BornBroken really fits 'cause we're from the drudges and we just keep on trying and trying.
---
No.2 There are a lot of elements to the album and there seems to be a lot of different influences on it. Can you tell us what bands influenced BornBroken as a whole?
Mike: We all have our own influences. Simon comes from the hardcore/grindcore world, a bit more metalcore too, like Unearthed and August Burns Red; I come from a more old-school world, Pantera, Sepultura, Exhorder, Slayer. For this album, I said I just want to play music, so whatever we write is what we're gonna write. As long as it grooves and as long as it's good, then great.
---
No.3 So you don't care where the influence comes from?
Mike: No. Not at all. Music is music nowadays. It's not like it used to be where if you were death metal you had to play death metal, if you're metal you were Judas Priest and Iron Maiden. Now you can take…
Matt: It's all about blending all the genres together now.
Mike: A lot of people are calling us Death/Thrashcore, which is quite the surprise.
---
No.4 Who inpired you as a guitarist?
Mike: I really like Ty Tabor from King's X, Jerry Cantrell from Alice in Chains, and then again Trevor Peres from Obituary, I really like his slow grind. I have a lot of older influences. And of course Jeff Hanneman, may he rest in peace. Max [Cavalera], of course — Sepultura riffs.
---
No.5 Is there a special story about your first guitar?
Mike: My uncle got me my first guitar when I was 5, and a week later I didn't have it anymore because my dad gave it back. My first real guitar was an Ibanez RG 550; we had a fire in the house and I lost all my other insturments so my aunt acutally got me that when I was 15.
Find out how BornBroken got the title for The Healing Powers of Hate after the jump…