There's always room for a new sleaze metal band. Fact is, the genre is going pretty strong, but it's pretty anorexic on a global scale. The world today is more impressed with hollow, computer-generated pop songs than with guys actually playing instruments and singing about pussy. Even metalheads are taking music way too seriously, when metal can be fun as well as brutal.
Dallas, Texas' Brand New Machine just dropped their debut album, The Devil Made Me Do It, on July 23rd, and the album's lead single/video is raw party music. Sounding like something that came in off the Sunset Strip there's no doubt strippers everywhere are peeling their clothes off to this tune, which of course was the intention behind the video.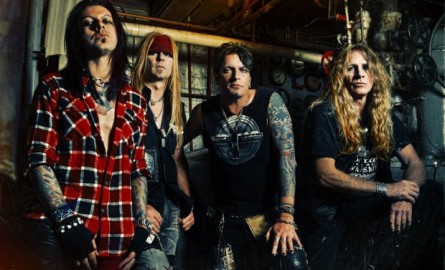 Reminiscent of classic sleaze metal bands like Guns N' Roses, Motley Crue, Buckcherry, Faster Pussycat, etc., and in line with the newer acts we featured in our sexy heavy metal videos article, such as Nasty Habit, Jettblack, Texas Hippie Coalition, Pop Evil, and Wildstreet, Brand New Machine is balls-out fun.
If you like what you hear, you can order Brand New Machine's The Devil Made Me Do It at Amazon:
CD – $18.32
Rock Hard \m/
httpvh://youtu.be/e81hojPYA00