httpvh://www.youtube.com/watch?v=Y16TEl6Ek1M
At first, I was skeptical about Chucky returning in partial CGI form in Curse of Chucky, but after a second watch it really doesn't bug me anymore. In fact, I'm starting to like it. Let's face it, trying to mechanically pull off Chucky's facial expressions is just a major pain in the ass, even if in the end it looks better than CGI. With a budget of $8 million, I'm pretty sure Weta Digital isn't turning down contracts like Avatar for Curse anytime soon. At least Chucky didn't lose his voice since Brad Dourif hasn't given up on him yet. That's pretty much the best part in the Child's Play franchise, or at least that's what everyone else is telling me.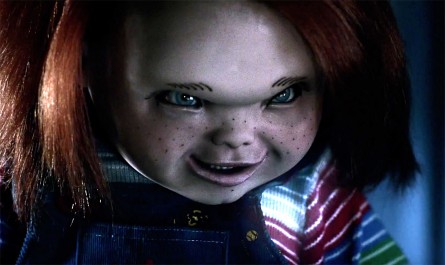 Overall, the film doesn't look bad at all, and it might actually be good enough to purchase when it comes exclusively to Blu-ray and DVD on October 8, 2013.
We'll try to get a review up for Curse of Chucky before that happens. Stay tuned for more to come!