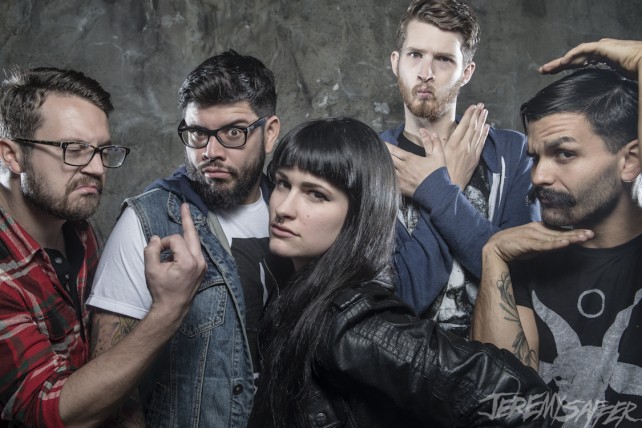 iwrestledabearonce have announced they will release their highly anticipated third studio album, Late For Nothing, on August 6th, via Century Media Records.
Late For Nothing marks Courtney LaPlante's IWABO studio debut since joining the band on a day's notice last summer. With some new blood on deck, fans may feel a little tepid about what's to come. However, you can be sure that their avant-garde style is well intact on the new album; their style has progressed immensely. It's reported to be their boldest and most accessible release to date, as well as ripping and roaring with blunt-force intensity that incorporates their brain-joggling breakdowns with a unique blend of electronics, jazzed-out time signatures, and break-neck riffage.
"The entire album came together as a result of us wanting to do something different," affirms guitarist/programmer Steven Bradley. "We didn't want to make another weird IWABO album or whatever people were expecting. We set out to make something different and better than anything we've ever released. It's a more evolved version of the band. We explored new styles and genres as well, especially in terms of the more spacey, epic, and beautiful parts. It's got the most melodic moments of our career as well as the heaviest."
Featuring the forthcoming, schizophrenic first single, "Thunder Chunky," Late For Nothing scales the summit of heavy rock/metal with 12 teeth-gnashing tracks that find a happy medium between crushing metal and beautifully orchestrated melody. The album's opener, "Thunder Chunky," sets the tone for the album as they slash their way through songs like "Letters To Stallone," that showcase LaPlante's incredible balance of full throttle screams and melodic choruses, and "Carnage Asada," which features a guest solo from the legendary Steve Vai.
IWABO will head to Europe for a summer run before returning to support the release of Late For Nothing in the U.S. on The All Stars Tour 2013 with Every Time I Die.
Late For Nothing track list:
1. Thunder Chunky
2. Letters To Stallone
3. Snake Charmer
4. Boat Paddle
5. Firebees
6. Mind The Gap
7. Carnage Asada
8. The Map
9. That's A Horse Of A Different Color
10. I'd Buy That For A Dollar
11. Inside Job
12. It Don't Make Me No Nevermind
iwrestledabearonce tour dates:
June 21 – Karlsruhe, Germany – Stadtmitte
June 22 – Schweinfurt, Germany – Kulturhaus Stattbahnhof
June 23 – Wien, Austria – Viper Room
June 25 – Graz, Austria – Explosiv
June 26 – Augsburg, Germany – Musikkantine
June 27 – Trier, Germany – Open Air
June 28 – Roitzschjora, Germany – With Full Force
June 29 – Montabaur, Germany – Mair 1
June 30 – Leeds, UK – Ghost Fest
July 2 – Moscow, Russia – Plan B
July 3 – Saint Petersburg, Russia – Arktika
July 5 – Sulingen, Germany – Reload Fest
July 19 – Huntington, NY – The Paramount
July 20 – Worcester, MA – The Palladium
July 21 – Clifton Park, NY – Upstate Concert Hall
July 22 – Buffalo, NY – Town Ballroom
July 23 – Toledo, OH – The Rocket Bar
July 24 – Chicago, IL – Toyota Park
July 25 – Minneapolis, MN – The Cabooze
July 26 – Lawrence, KS – Granada
July 27 – Denver, CO – Summit
July 28 – Salt Lake City, UT – In The Venue
July 30 – Seattle, WA – El Corazon
Aug 1 – San Francisco, CA – The Regency
Aug 2 – West Hollywood, CA – House of Blues
Aug 3 – Santa Ana, CA – The Observatory
Aug 4 – San Diego, CA – Soma
Aug 5 – Mesa, AZ – The Nile Theater
Aug 8 – Dallas, TX – The Door
Aug 9 – San Antonio, TX – Backstage Live
Aug 10 – Houston, TX – House of Blues
Aug 12 – Atlanta, GA – The Masquerade
Aug 13 – Raleigh, NC – Lincoln Theatre
Aug 14 – Silver Spring, MD – The Fillmore
Aug 15 – New York, NY – Irving Plaza
Aug 16 – Reading, PA – Reverb
Aug 17 – Hartford, CT – The Webster
Rock Hard \m/