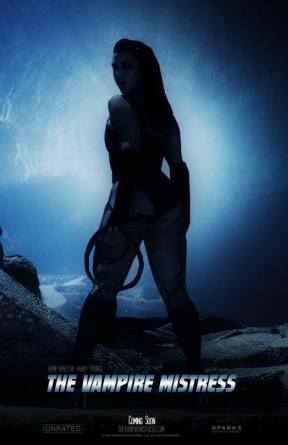 I'm not sure if this is porn, soft-core, or just a vehicle for entering mainstream horror, but The Vampire Mistress looks to be a film that'll straddle at least two genres. The film stars a handful of porn actresses and was written and directed by adult film director Harry Sparks – so you tell me, where's this movie going?
Judging from the trailer, The Vampire Mistress has everything it needs to be a campy horror flick: bad acting, requisite boobs, blood, and a simple plot.
The Vampire Mistress is coming to DVD June 5, 2013, and stars Dani Daniels, Lily LaBeau, Hayden Winters, Faith Lee Sentz, Darcy Tyler, Ariana Fox, and Chris O'Brocki.
---
The Vampire Mistress official synopsis:
"The Vampire Mistress tells the story of a beautiful young reporter named Laura who's life changes dramatically one fateful night when she is abducted by a sinister cult called the vampire society. After she is made into a vampire, Laura must choose to either join the vampire society and the evil mistress Alison in terrorizing the city or use her new powers to bring them down and end their reign of terror once and for all."
Coming to DVD June 5th 2013
Rock Hard \m/
httpvh://youtu.be/a8f4nQL_CqE