Because Mondays suck – Here's your suicide solution.
Please leave a comment in the designated section below to tell us what you think of our sexy selection.

What constitutes a "favorite" Suicide Girl? Well, she has to meet a few of our standards: She should be fairly heavily tattooed and/or pierced, into one or more of our topics of interest (heavy metal/hardcore rap, horror/sci-fi/action movies, MMA, and/or specific types of video games), and seemingly interesting as a person (as best as we can judge from the brief bio SuicidGirls sends us), and sexy.
Why SuicideGirls? They say it best: "SuicideGirls is a community that celebrates Alternative Beauty and alternative culture from all over the world." Hey, we're into that subculture thing too.
Don't forget to click on the thumbs to see larger versions of the pictures.
And if you want to see these girls in all their sexy glory, join SG via this link.
---
Kemper Suicide

Age: 25 (January 14, 1988)
Location: California, USA
Hometown: Orange County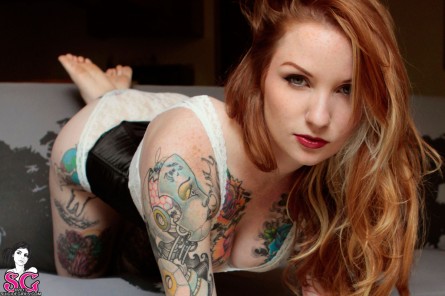 Body mods:
Tattoos, implants
Gets me hot:
Grammar and punctuation, and guys who look like Thor
Favorite position:
Sniper
Into:
Carcharodon carcharias, puppies, central air, fiction, privacy, Adobe creative suite, in-depth arguments about fictional topics, graphic design, typography, grammar
Not into:
Indoor pools, Jar Jar Binks, lack of personal space, banana/pineapple/coconut, rude/arrogant/pushy people, ugly typography, shitty web design, 3-D, spicy stuffs
5 things I can't live without:
Vibrator, car, contacts, chapstick, puppy snuggles
Vices:
Procrastinating, masturbating, procrasturbating & I'm a total creeper
I spend most of my free time: Searching for the mythical clitoris.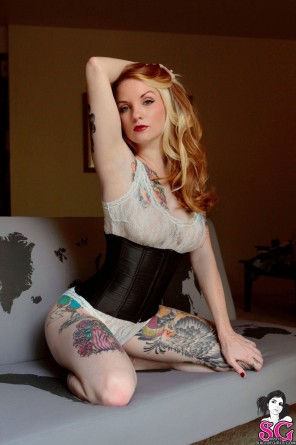 Bands:
Hank Williams Sr., Ella Fitzgerald, Peggy Lee, Bad Religion, The Misfits, Violent Femmes, Smashing Pumpkins, Cake
Films:
Star Wars, The Fifth Element, How to Train Your Dragon, The Searchers, Forgetting Sarah Marshall, Clash of the Titans (1981), Blade Runner, Walk The Line
Books:
I Am Legend, What Dreams May Come, The Devils Teeth, The Stand, Greek Mythology, Do Androids Dream of Electric Sheep
Artists:
Eric Canete, Axel13, Natalie C, NoahN, AnnLe
Fabrizia Suicide will have you thinking fresh thoughts after the jump…