Chael Sonnnen made a surprise appearance on UFC Tonight to deliver a final message to UFC light heavyweight champion Jon "Bones" Jones, and it doesn't sound as pretty as the one he made at the presser call on Monday. This time Sonnen was in true "American Gangster" mode, and he finally means business.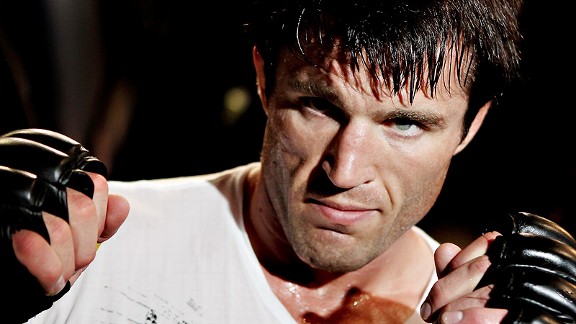 Chael Sonnen word-for-word:
Why don't you shut up and listen up and I'm going to tell you what's going to happen in this next week. When I get to the Soprano's state, when I step off that plane in New Jersey, there's a new family in town, the Sonnen family, and I'm the new Don.

I'm taking over that state and the first thing I'm going to do is go to the speaks, the sitdowns, the social clubs and handing out smacks to anyone that doesn't want to kiss the ring.

And my first order of business is to beat the bejesus out of Jon Jones and when I'm done I'm gonna go over to Johnny C's place on Union Street in Brooklyn, have a couple of faschettas and give the guys of the other five families an opportunity to pay me tribute.

Jones, you will be reminded the hard way, why you never piss off, a ganster.

Oh a guys, one more thing: Kabooom!
UFC 159: Jones vs. Sonnen goes down this Saturday night at the Prudential Center in Newark, New Jersey. However, before the main event happens the official weigh-ins will be on Friday, and we'll have the LIVE video feed ready for you here on Yell! Magazine.
Stay tuned!
httpvh://www.youtube.com/watch?v=prRVj08AFsE