The thrashers known as Evile will unleash their next album, Skull, on May 27th in Europe and June 11th in the U.S. However, you can pre-order your copy today – and select from a variety of hot, mind-blowing formats.
Format options for Evile's Skull include:
– Regular jewel case CD
– Jewel case CD signed by band (100 copies)
– Red (100 copies), White (200), Purple (300) or Black (400) vinyl LP

– Black vinyl LP signed by the band (150 copies)
– Album cover t-shirt
– Album cover hoodie
– Album cover girlie/tank top
– CD & t-shirt/hoodie/girlie pack
– Black LP & t-shirt/hoodie/girlie pack
– Your name in the album credits & CD or Black LP
All Skull album pre-orders from the Earache Webstore will also come with an exclusive bonus CD featuring two extra tracks, unavailable anywhere else. You better move faster than someone who just took massive hit as some of these products are only available in strictly limited quantities – and once they're gone, they're gone! So reserve your copy now from the Earache Webstore in Europe or in North America.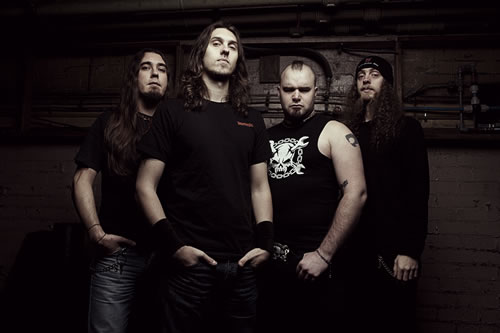 For a sneak peak at the new music, check out this "Skull" teaser video now, featuring clips from all 9 album tracks: http://youtu.be/_5DIkTStAa0
Check out the sneak peak of Evile's Skull above and let us know what you think. We loved their previous effort, 5 Serpents Teeth, and find some of what's on this teaser to sound a bit like Slayer, which we like.
Rock Hard \m/
httpvh://www.youtube.com/watch?v=_5DIkTStAa0