Dark Sermon have just released the video for "Hounds," which comes of the band's debut full-length, In Tongues.
This is one violent track with brief solos to showcase that these guys can really play. The video, on the other hand, will make you wonder how the band members have managed to keep their heads attached. It might be me, but the way that they head bang is peculiar. So, the video actually has something to do with witchcraft, creating a protective ring with salt, using blood in a ritual, and animal sacrifice. I'm joking about the latter – you'd have to be pretty fucked in the head to hurt that puppy. But the most gruesome image in the video is the are the two "Holy Wounds" used to draw blood for the ritual.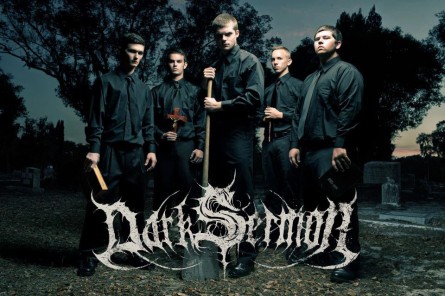 "Hounds" was directed by Kevin J. Custer. In Tongues available was recorded at Audio Hammer Studios with Eyal Levi, best known for records from The Contortionist, Whitechapel, and Job For A Cowboy.
Dark Sermon will hit the road this spring with Abiotic after a batch of hometown CD release shows, starting this weekend with an appearance at this year's New England Metal & Hardcore Festival in Worcester, Massachusetts. Dark Sermon is also in the running to open up this year's Summer Slaughter Tour.
Rock Hard \m/
httpvh://youtu.be/J509aaiCc5k