The Review
Maybe it's because I just saw the Rock of Ages musical (not the movie) recently, and have a found appreciation for theatrical performances, but Incura's self-titled debut full-length album is nothing short of genius. It's 100% original and captivating, and it makes me happier than shit that it falls in the metal genre and not something mainstream hipsters have latched onto – let them have Muse or Daft Punk or even Mastadon for their misconstrued sense of irony. Hell, Incura is what Adam Lambert (American Idol) wishes he could be. (I just realized that the fact that I know this makes me want to slit my wrists.)
Let me redeem myself. These Vancouver-based metallers could have easily provided the score/soundtrack for Repo! The Genetic Opera.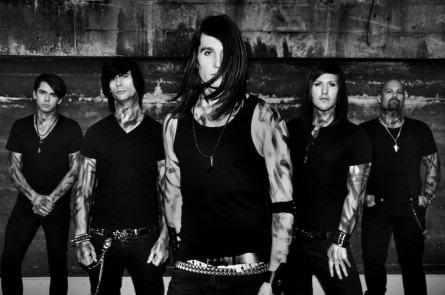 It makes sense that Incura has such a theatrical element to their sound once you know that Kyle Gruninger, vocals, has a professional theater background. Sure, there are other acts that have put a foot in the thespian arena, such as Fleshgod Apocalypse, My Chemical Romance, and even the legendary Queen, just to name a few, but it's a tough subgenre to do right, especially on your debut.
A lot of people might get annoyed by Gruninger's vocals, and I'll admit that they caught me off guard at first, but once you figure out what the band is doing, it makes sense. The thing that really stands out for me, and you get it right away on the first track, "Get the Gun," is the tone of Royce Whittaker's guitar. There's something raw yet refined in it. The vocal melody on "Get the Gun" is addictive too, and it wants to crush you.
As a five-piece band, they've done a masterful job of letting everyone come into the spotlight. This might be most evident on "Who You Are," which also happens to be the most theatrical track on the album. It's an epic song that delivers waves of intensity with lulls that allow you to catch your breath.
But Incura isn't a one-trick pony. No, this theatrical metal act can also do progressive metal, heard on "Turning Blue." Here the band combines elements of prog metal, theatrical metal (I guess that's what we're gonna call it), straight-up hard rock and metal… actually, what aren't these guys doing?
By the time you reach the last track on the album, "Sweat Runs Cold," you might not be ready for the flirtations with metalcore and death. There's not much of those elements in this track, but there is are moments with death growls and the metal riffs going on at about the halfway mark are nice to hear on this experimental track.
The Verdict: [rating:3.5]
Incura deliver a truly unique album from a country that often produces, as far as I'm concerned, canned musical acts all chasing the same sound. While this is an album that might not get played everyday, it'll be one that you'll be proud to show off. Certainly, Incura could captivate an audience at any metal fest. Production on the album is also tops with crystal clear sound and ample highs and lows in terms of output.
Incura is available on MP3 for $8.99 at Amazon.
Rock Hard \m/
Yell! Rating (x/5 Skulls):

[rating:3.5]

Artist

Incura

Album:

Incura

Year Released:

26 February 2013

Label:

Metal Blade Records

Genre

Theatrical Metal, Prog Metal

Official URL: