If you like Arch Enemy or Opeth or Evil Masquerade, you might want to check out the super metal outfit Spiritual Beggars, which you may have already since they've been around for 20 years. Admittedly, they're new to me.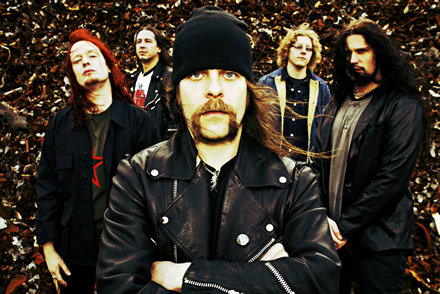 Comprised of Michael Amott and Sharlee D'Angelo (Arch Enemy), Per Wiberg (Opeth), Apollo Papathanasio (Evil Masquerade), and Ludwig Witt, Spiritual Beggars delivers authentic stoner metal that sounds like it walked right out of the '70s.
This Swiss outfit has just premiered their latest video, "Wise As A Serpent," from their latest album, Earth Blues.
The band's guitarist and main songwriter, Michael Amott, commented on the clip:
"We chose this particular song as the first video off Earth Blues 'cause it's an explosive track and also the shortest song on the album! I filmed and directed the video myself and Anders Björler (At the Gates) did a great job on the edit. We're more than pleased with the end result, it's done in true DIY spirit… raw and authentic."
Earth Blues is the band's 8th studio release and marks Spiritual Beggars' 20th anniversary as a band. The album will be released on April 15th in Europe and April 16th in North America via InsideOut Music. For another preview of Earth Blues, check out the previously released album track, "Turn the Tide."

Earth Blues Track Listing:
1. Wise As A Serpent
2. Turn The Tide
3. Sweet Magic Pain
4. Hello Sorrow
5. One Man's Curse
6. Dreamer
7. Too Old To Die Young
8. Kingmaker
9. Road To Madness
10. Dead End Town
11. Freedom Song
12. Legends Collapse
To promote this upcoming release as well as the band's anniversary, Spiritual Beggars have confirmed a European tour for April with support by German rockers Zodiac, in addition to some summer festivals around the world. See below for all upcoming tour dates:
Spiritual Beggars – Earth Blues Tour with Zodiac & More:
15.04.2013 – Hamburg (Germany) – Logo
16.04.2013 – Köln (Germany) – Underground
17.04.2013 – Ludwigsburg (Germany) – Rockfabrik
18.04.2013 – München (Germany) – Backstage
19.04.2013 – Pratteln (Switzerland) – Galery
20.04.2013 – Nürnberg (Germany) – Rockfabrik / Rock'n'Roll Overdose Festival
21.04.2013 – Tilburg (The Netherlands) – 013 / Roadburn Festival
22.04.2013 – Paris (France) – La Scene Bastille
25.04.2013 – Madrid (Spain) – Caracol
26.04.2013 – Barcelona (Spain) – Sala Music Hall
27.04.2013 – Erandio / Bilbao (Spain) – Sonora
28.04.2013 – Toulouse (France) – Le Saint Des Seins
Spiritual Beggars @ Festivals 2013:
20.04.2013 – Nürnberg (Germany) – Rockfabrik / Rock'n'Roll Overdose Festival
21.04.2013 – Tilburg (The Netherlands) – 013 / Roadburn Festival / www.roadburn.com
25.05.2013 – Mexico City (Mexico) – Circo Volador
23.06.2013 – Clisson (France) – Hellfest / www.hellfest.fr
Rock Hard \m/
httpvh://youtu.be/pDb7r2E5qfw