France's own NightShade will release their upcoming album, An Endless Vision, on April 30th. The album was mastered by Alan Douches (Lacuna Coil, The Ghost Inside) and mixed by Jason Suecof (Trivium, DevilDriver, Whitechapel), who had this to say about working with the band,
"I personally enjoyed working on this album. It completely took my face, ripped it apart, rearranged it, and sold it on the black market as food for your kids whilst desecrating my soul for all eternity."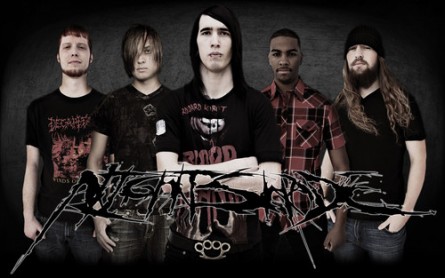 If you can't wait to have your face ripped off too, check out the new video for "Betrayal." While the deathcore group was filming the music video in Spain, a demonstration in Madrid got violent when thousands of protesters clashed with riot police. Protesting in response to the announcement of severe austerity measures, police reportedly made 22 arrests while over 32 were injured. NightShade decided to include shocking footage that shows police using violent force on protesters in the video for "Betrayal."
Until I saw the video, I was thinking that there are two sides to every story, and the footage depicting the police in a bad light usually don't show what the protesters did to provoke such a reaction. I was thinking that the police probably were justified in their use of force. Then I saw the end of NightShade's video. You know, maybe the protesters did provoke something, but surely nothing deserving of the cruelty seen in this video.
While I'm not a fan of the gravity-blast riddled song, and I don't find Anthony Iubatti believable as a metal vocalist, I do appreciate the message. Guitarist Bastien Deleule explained the song and the situation in Madrid:
"This song 'Betrayal' is about how people need to open their eyes and stop being controlled by their governments. People shouldn't be scared to take control of their own lives and make their own choices. It's ironic that a huge civil protest broke out in Spain while we were there shooting our music video, considering it is effectively what this song is about. Spain has over 50% unemployment and things are dire and people are angry, and we are angry too. We choose to express our anger with our music and we hope everyone loves it as much as we do! Other than being in the middle of some scary riots in Spain, we had a blast filming this video!"
Rock Hard \m/
httpvh://youtu.be/EJkAaQj7v9M