How on earth did we miss the epic release of Fist of Jesus last month on YouTube, which features Christ and his apostle, Judas, engaging in a battle against a vicious crew of Roman zombies, and wait for it… cowboy zombies.
It's a bizarre and bloody tale before the crucifixion of Christ with tons of gory special effects that will please your hunger for blood. When we only thought zombie-themed films are over played nowadays, this little 15-minute gem simply buries that notion a few feet underground. I guess we can live with anything that's as creative and fun as Fist of Jesus because Christ and Judas kick zombie ass with smelly fish, a cross, and, of course, the fist of Jesus. Even if you think you had enough of zombies, for once out of the entire pile of shit, this is a must-see. Just keep in mind you will need to deal with subtitles because the short is in Spanish.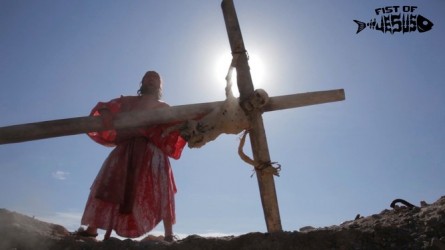 Fist of Jesus was directed by Adrián Cardona and David Muñoz, and stars Marc Velasco as Jesus, Noé Blancafort as Judas, Salvador Llós as Jacob, and José María Angorilla as Cowboy zombie boss.
The crew currently needs your help to turn this short into a full-fledged feature film titled Once Upon a Time in Jerusalem. So if you like this short, head over to the official website for more details on how you can make this happen for them. Just so you know, a little change can make a big difference.
httpvh://youtu.be/GuKV2Z3eYTY