What do kids do when they ditch (or cut) class? They stay at home, play beer pong, and get cut up. That's what can be gathered from the 25-second teaser trailer for Director Joe Hendrick's Ditch.
The film, set for an April 2013 release, stars Bill Oberst Jr. as Vick and Katy Foley as Jenny. Other sources state that the two have a mysterious past that brings them together, again, and that Vick has a score to settle with Jenny. By the way, Vick is the ax-wielding Norman Bates-type character in the trailer.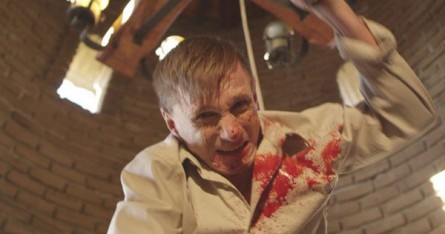 Ditch's official synopsis follows:
"Jenny Bilson, a high school senior, is the perfect student, a wonderful daughter to a veteran police detective and an all American Dream. But the one mistake she is unaware of making is about to haunt her in a very violent way as her past returns for revenge."
Ditch was written by Daniel P. Couglin and produced by Megan Waters.
Let us know what you think of this slasher in the comments section below.
Rock Hard \m/
httpvh://www.youtube.com/watch?v=PQLOc5vcHMA