Ah, you have to love Brazil, from its beautiful women to its heavy metal, the South American country certainly knows how to get our attention. And Krisiun's latest video, "The Will to Potency," is a powerful example why the Brazilian metal scene is one that matters. The video features a road-weary band playing their dedicated hearts out in a Mexican desert — that's almost as tough as this song sounds.
Full of chugging riffs, almost psychedelic solos, wicked fills, and vocals that put Satan in his corner, "The Will to Potency" is what metal should sound like. A lot of young bands out there would be wise to take notes right about now.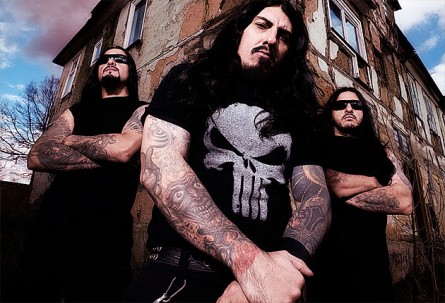 Hard to believe Tarantino's influence is making its way into music videos. And when you read the story behind this video (below), you'll appreciate that much more.
Rock Hard \m/
---
On their last tour across the US, the Três Irmãos of KRISIUN filmed a new video for "The Will To Potency", a song from their latest studio album, The Great Execution. The video was inspired by revered filmmaker Quentin Tarantino's style.
The director and producer of the video, Tommy Jones, comments:
"The band had originally contacted me to do a live video on the Conquerors of the World Tour. We filmed every night live, however, the day before the last show of the tour, we had a day off on a drive through New Mexico towards the last show in Texas. I had the idea of filming the band out in the middle of the desert because I love that area and always wanted to do a desert shoot. So I convinced the driver to pull over in the middle of nowhere at 9 a.m. We filmed for about two and a half hours out there, using a laptop as audio playback. We caught the attention of the Mexican Border Patrol who came to check out what we were doing. They sent about 3 SUVs out to check us out. Once they made sure we weren't doing anything 'too illegal' they got a kick out of it and were taking pictures on their iPhones because they said in all their years, they haven't seen a band set up in the middle of the desert.

When it was all said and done, we filmed every night on tour, but it ended up that the majority of the video was filmed on that day off in the middle of the New Mexican desert in about 2.5 hours.

It was a fun video, and I'm glad we got to do it this way, we all are really stoked how the desert stuff came out."

European tour dates for Krisiun will soon be announced, so stay tuned for an update coming soon!

httpvh://www.youtube.com/watch?v=97fiImWsQY0