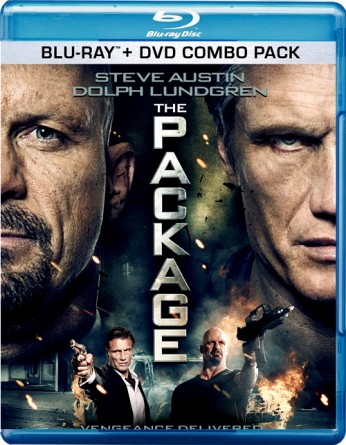 I hate Steve Austin. I never liked his wrestling persona and would say he needs a package on his chin. Then again, I never liked The Rock either, but I warmed up to him as an actor. For some reason, however, I don't think the same will happen here. Me liking Austin is about as likely as a nun liking Hustler magazine.
I've always liked Dolph Lundgren though, even as Rocky's arch nemesis. It's highly fortunate that he's also starring in the upcoming film, The Package, otherwise I wouldn't see it — and we all know that no film is a success until I've seen it.
Check out the trailer above and read the press release below, then let us know what you think in the comments section below.
Rock Hard \m/
---
The Package (2013) Movie Stills
Unrelenting action is the order of the day when superstars Steve Austin (The Expendables, Maximum Conviction) and Dolph Lundgren (The Expendables II, One In The Chamber) burn up the screen in Anchor Bay Films' bone-crunching action epic The Package, coming to Blu-ray/DVD Combo Pack and DVD February 19th.
Directed by Jesse V. Johnson and written by Derek Kolstad, The Package features Austin as Tommy Wick, a nightclub bouncer and enforcer for Seattle crime boss Big Doug (Eric Keenleyside – Dreamcatcher, Firewall). When Big Doug instructs Tommy to hand-deliver a secret package to the mysterious international crime lord "The German," (Lundgren), he does so with the hopes that Big Doug will forgive the debt Tommy's brother Eddie (Lochlyn Munroe – White Chicks, Freddy vs. Jason) owes.
Word of the clandestine delivery spreads and soon "the package" – and those who carry it – becomes the target of rival gang leader Anthony (Michael Daingerfield – The Messengers). Anthony will stop at nothing to ensure its capture. Facing incredible odds, Tommy races against the ticking clock – and a small army of hit men, mercenaries, assassins, and sadists – to complete delivery. But does The German have other ideas about what to do with the package?
httpvh://www.youtube.com/watch?v=qPK1-eCU9Cg&feature=youtu.be