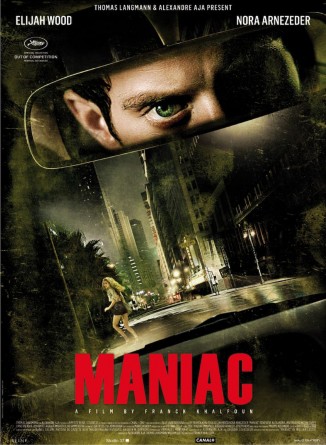 After viewing the new international trailer for MANIAC, a remake of William Lustig's slasher classic that still remains fresh in the back of some of our minds, due to the graphic nature of the film. You may find that the trailer above for MANIAC, which stars Elijah Wood as Frank, feels like a modern-day "giallo" film inspired by Italian director Dario Argento. Typically like his early work such as, Deep Red and Tenebre, for the similar use of POV shots that places the audience in the eyes of the serial killer. An effective technique often used by Dario Argento that seems to work extremely well in MANIAC, based on what I witnessed in this gory new trailer.
IFC Midnight recently announced that they're acquiring all the North American rights to MANIAC, which premiered at the 2012 Cannes Film Festival in May. MANIAC was directed by Franck Khalfoun with screenplay credits for the film going to Alexandre Aja (Haute Tension) and Gregory Levasseur.
Check it out, and let us know if you think MANIAC is in fact inspired by Dario Argento in the comment section below.
---
MANIAC (2012) Story
Frank is the withdrawn owner of a mannequin store, but his life changes when young artist Anna appears asking for his help with her new exhibition. As their friendship develops and Frank's obsession escalates, it becomes clear that she has unleashed a long-repressed compulsion to stalk and kill. A 21st century Jack the Ripper set in present-day LA, MANIAC is a re-boot of the cult film considered by many to be the most suspenseful slasher movie ever made – an intimate, visually daring, psychologically complex and profoundly horrific trip into the downward spiraling nightmare of a killer and his victims.
httpvh://youtu.be/gSVli–dvQo