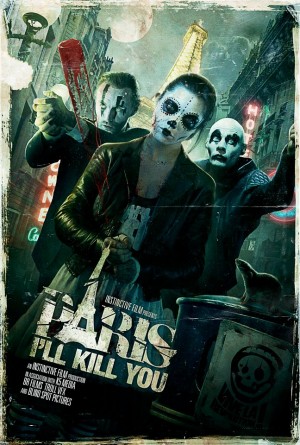 If you haven't heard of the upcoming horror anthology, Paris I'll Kill You, don't worry, because your probably not alone. Usually, when an independent film, such as PIKY, is still in production, most people have never heard of it.
So, if it's the first time you're hearing about it, thank us by leaving a comment below. Otherwise, we will hunt you down and YELL! at you until your brain makes its way through your ears… but I'm just kidding, man! Based on what has been told online, PIKY promises to have interweaving horror stories that take us all over the city of Love. You guessed it, Paris! I can't really tell you more because the details are very secretive, you know, other than the obvious: mimes are a part of it, and they look effin deadly. Definitely not ones you would like to take souvenir pictures with anytime soon.
Paris I'll Kill You is directed by not just one, but by 10 of the industries finest horror and genre directors. Here is the official list of the directors involved: Christian Alvart, David R Ellis, Eron Sheean, Joe Dante, Xavier Gens, Julie Maury, Alexandre Bustillo, Paco-PLaza, Christopher Smith, Timo Vuerensola, and Joern Heitman.
We would like to thank Instinctive Film, who is behind this ambitious project, and who gave the world another dose of production stills. Specifically, these stills are from just one of many installments to be unveil, "Dawn of the Mimes."
Lastly, the beautiful female mime in the teaser stills above is Delphine Chanéac, who also played Dren in Splice.