Here is a sweet new video for the song "Rewound" directed by the Orbán Brothers. It's fitted with some beautiful retro elements like a pin-up girl, a vintage reel-to-reel audio rig, an old boob tube, and vintage posters plastering the walls of what seems to be a one-room apartment. If there's one thing that's certain here, it's that the Hungarian melodic punk rock outfit Bankrupt knows who they are and what they're going for.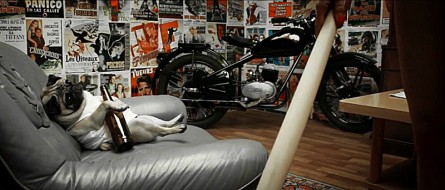 Musically, Bankrupt, is far from original in my opinion. It sounds extremely similar to some of the stuff I listened to during a portion of my virginal high school years. However, Bankrupt still seems to pull it all together with simplicity, great vocals, and a surf-rock theme. So ya, we hope the band takes this as a compliment since we don't usually cover punk on Yell! Magazine. Hell, I can't even remember the last time we did, but sometimes when we really think a band is good, and needs a tad more exposure, we'll give props where props are due. Besides, do we really need to care about the type of music a great band plays?
---
About The "Rewound" Video
Did you know that if you spend too much time watching TV and swilling beer, you could turn into a fat little pug? And that's especially a fitting punishment if your neglected wife is a hot pin-up girl.
Watch the new music video above by Bankrupt to discover more.
---
More Bankrupt Tracks For You To Dig Into
---
Bankrupt are:
– Rocco (vox, bass)
– William (guitar, vox)
– Shorty (drums)
Source: Bankrupt
httpvh://youtu.be/3zQpF1JZl-s