Because Mondays suck – Here's your suicide solution.
Welcome to Suicide Monday on Yell! Magazine. Each week we're going to bring you a favorite girl or two who were featured on SuicideGirls.com during the previous week.
Please leave a comment in the designated section below to tell us what you think of our sexy selection.

What constitutes a "favorite" girl? Well, she has to meet a few of our standards: She should be fairly heavily tattooed and/or pierced, into one or more of our topics of interest (heavy metal/hardcore rap, horror/sci-fi/action movies, MMA, and/or specific types of video games), and seemingly interesting as a person (as best as we can judge from the brief bio SuicidGirls sends us), and sexy.
Why SuicideGirls? They say it best: "SuicideGirls is a community that celebrates Alternative Beauty and alternative culture from all over the world." Hey, we're into that subculture thing too.
---
The Girls
To quote David Lee Roth, "I like… I like the little way the line runs up the back of the stockings." And Acacia Suicide has the kind of lines on the back of her legs that are permanent… yum. Besides Steel Magnolias and a couple other questionable titles, Acacia's taste in film is pretty good. She also states that she has a preference for '80s hair metal, and with a name like Acacia we think she also has a like for the NWOBHM, Iron Maiden more specifically.
When we saw the daily update with Felina Suicide, our jaws broke from the impact they had on the floor. Her bio doesn't tell us much, but any chick who lists Danzig among her favorite bands can't be all that bad. She has some killer ink in addition to being as cute as a Catholic school girl attending Sunday mass and as sexy as that same Catholic school girl smoking out back.
Last week we featured Squee Suicide, who has an honest dislike for Star Wars. Well, this week we decided that we'd feature Kemper Suicide to balance the equilibrium. Kemper such a fangirl that she has Darth Vadar and R2D2 tattooed on her shoulder, and she can often be seen sporting an unusually sexy corset with an R2D2 theme — although we're pretty sure that being with her is nothing like being with that tin can we tried out a month ago. Man, that was cold.
Don't forget to click on the images for a larger version.
---
Age: 24
Location: Virginia, USA

Occupation: Hair designer in training
Current crush: Anyone who's uninterested or unattainable
Body mods: 4 piercings, 8 tattoos, and seam lines
Gets me hot: Tattooed bad boys with sweet hearts. Full, pouty mouths. Just the right arch in an eyebrow. Good hair. Wisdom. Vintage automobiles. Vampires. Chaos. Violet Erotica. Italians.
Fantasy: To rule the world
Sign: Aries: Fuck with a ram… you'll get the horns. Try me.
I lost my virginity: Oops
ALCOHOL: Occasionally
MY KINK FACTOR: I'll try anything once, especially if you beg for it
MY STATUS: Single
Into: '80s hair metal, black lace, and mannequin heads
Makes me happy: Sushi. Zach Galifianakis. Dane Cook. Iced Chai. Poetry by EE Cummings. Alvina Valenta. Motorcycle rides. My kitten Vicious. RUSK. Bride of Frankenstein. Los Angeles. Rosaries. Cow skulls. Being treated like a lady. Good company. Chuck Palahniuk's sexy brainmeats. Starbucks.
Makes me sad: Not much. I'm a happy fucker
5 things I can't live without: Hair spray. Lip gloss. Humor. A bitchin' pair of heels or boots. Independence.
I spend most of my free time: Being awesome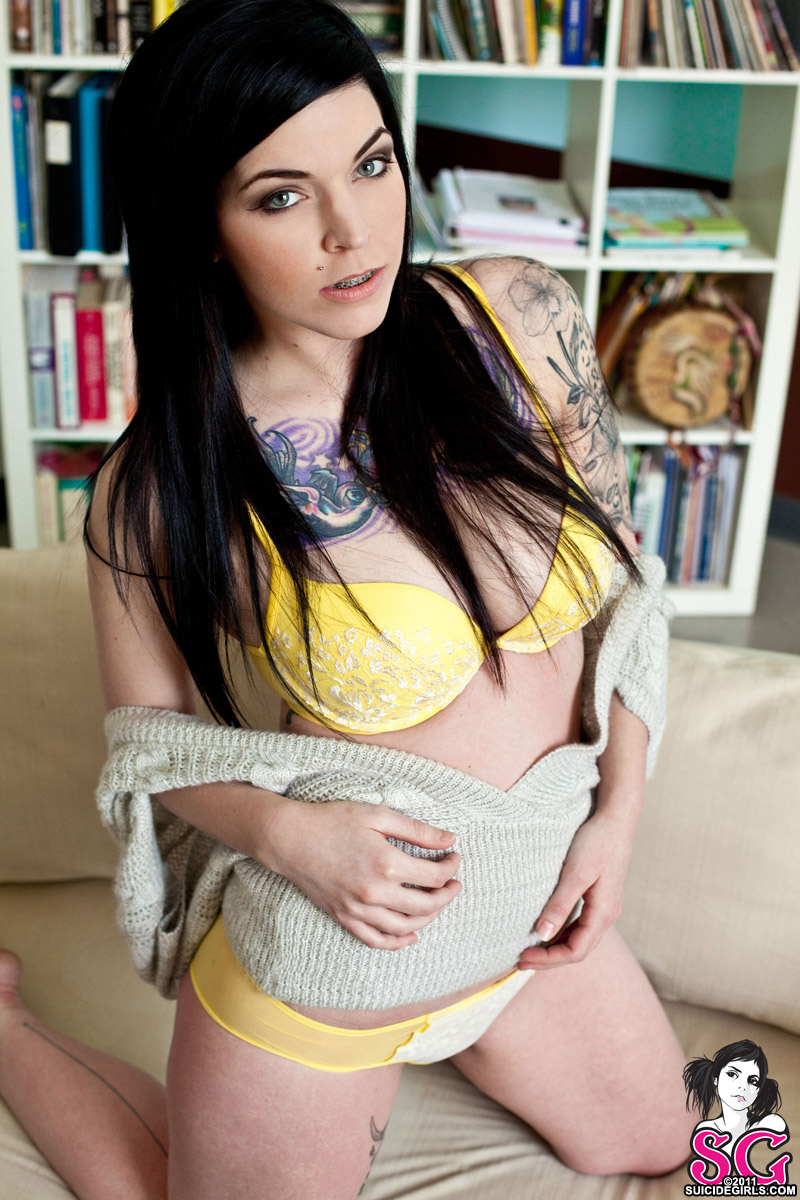 Films: The Lost Boys, Monster Squad, The Wedding Singer, Jawbreaker, Hocus Pocus, Airheads, Jennifer's Body, Role Models, Steel Magnolias, AND I am a sucker for comedy! (:
Books: Invisible Monsters, 1984, This Is Gonna Hurt, The Heroin Diaries, Star, Fight Club, Bram Stoker's Dracula, The Scarlet Letter, The Dhammapada, Why Men Love Bitches
---
Get frisky with Felina after the jump…