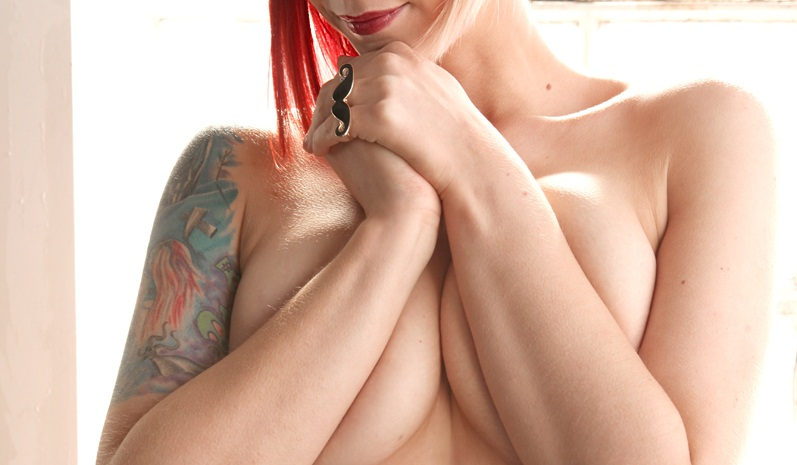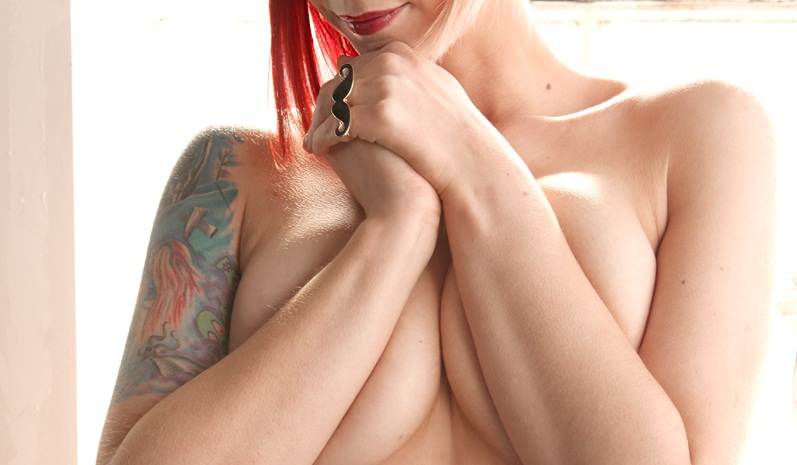 Because Mondays suck – Here's your suicide solution.
Welcome to Suicide Monday on Yell! Magazine. Each week we're going to bring you a favorite girl or two who were featured on SuicideGirls.com during the previous week.
Please leave a comment in the designated section below to tell us what you think of our sexy selection.

What constitutes a "favorite" girl? Well, she has to meet a few of our standards: She should be fairly heavily tattooed and/or pierced, into one or more of our topics of interest (heavy metal/hardcore rap, horror/sci-fi/action movies, MMA, and/or specific types of video games), and seemingly interesting as a person (as best as we can judge from the brief bio SuicidGirls sends us), and sexy.
Why SuicideGirls? They say it best: "SuicideGirls is a community that celebrates Alternative Beauty and alternative culture from all over the world." Hey, we're into that subculture thing too.
---
The Girls
Why does everyone think that if you say you like Tarantino films that you're automatically a member of some elite movie-watching class? Meh, whatever. It doesn't change the fact that Dusk Suicide is hot. Just looking at her body mods sends us into epileptic shock. Since she's a body piercer by trade, there's at least one way you can expose yourself to this little Portuguese tapas without getting arrested.
Tim Burton tattoos, hips to die for, a booty that surely bounces, and a claim to be a metalhead; what's not to like about Squee Suicide? While her metal edge is a bit more emo-core, at least it's not Lady GaGa or Justin Beiber. And although her dislike for Star Wars and Star Trek count as two strikes against her, she's terribly cute and seems genuine enough to overlook her faults. In the end, it depends on how fanboy you are.
Don't forget to click on the images for a larger version.
---
Age: 18
Location: Portugal
Occupation: Body Piercer
Current crush: Plum SG
Body mods: 1 1/4 tunnels Piercings: Septum, Frenulum tongue, smiley, nipples, hips, clit hood, medusa, and two nostrils. Tattoos: Neck: Anchor and cross. Wrists: diamond and bloody tooth Legs, Lettering "from dusk till dawn," traditional peacock (not finished yet). Feet: Crow (not finished yet); rose with a pocket watch. Arms: Praying hands, Medusa (mythology), eye and cloud with thunders. Hands and fingers: Heart, "LV" lettering, and a cup of coffee.
Heroes: Mom
Fantasy: True love
I lost my virginity: I was 15 and pretty drunk
CIGARETTES: I have black lungs
MY DIET: Omnivore
ALCOHOL: I am a complete drunkard
MY DRUG USE: Up the nose
MY KINK FACTOR: I'm saving myself for Jesus!
MY POLITICS: Politics, who cares?
POT: Occasionally
MY STATUS: Exclusive relationship
MY IDEA OF A GOOD TIME: When I go out, ANYTHING can happen
I WANT: Friendship
MY PIGEONHOLES: Fuck you, I defy categories
Into: Cats, body mods, zombies, music, love, sex, wolves, owls, bites, you, tea, being naked, movies, boys, girls
Not into: War, assholes, bullshit
Makes me happy: Tea, candy, apples, and my friends
Makes me sad: Animal cruelty, loneliness
Hobbies: Eating all the food
5 things I can't live without: Cellphone, computer, hair brush, my book of sketches and my headphones
Thoughts on SG: I love it

Bands: The Faceless, Whitechapel, Converge, JUSTICE, All Shall Perish, Suffokate, More Than Life, Alestorm, Gallows, Cancer Bats
Films: Pulp Fiction, Reservoir Dogs, Donnie Darko, Notebook, This Is England, Get Him To The Greek, Juno, The Lord Of The Rings, Pan's Labirynth, American History X
Squee will have you squealing after the jump…