Because Mondays suck – Here's your suicide solution.
Welcome to Suicide Monday on Yell! Magazine. Each week we're going to bring you a favorite girl or two who were featured on SuicideGirls.com during the previous week.
What constitutes a "favorite" girl? Well, she has to meet a few of our standards: She should be fairly heavily tattooed and/or pierced, into one or more of our topics of interest (heavy metal/hardcore rap, horror/sci-fi/action movies, MMA, and/or specific types of video games), and seemingly interesting as a person (as best as we can judge from the brief bio SuicidGirls sends us), and sexy.
Why SuicideGirls? They say it best: "SuicideGirls is a community that celebrates Alternative Beauty and alternative culture from all over the world." Hey, we're into that subculture thing too.
---
The Girls
Well, it was a slow week the last seven days. For the most part the SuicideGirls featured weren't exactly in line with what we do here at Yell! Magazine, but I did my best to bring you two of the more interesting, with regard to our criteria, and beautiful young women.
Nahp Suicide hails from Colombia, and although her native land is known for two major exports, she's making a case for heavily tattooed women. She has some questionable music preferences, but there are some gems in the mix, and her taste in film is meh, but Nahp pulled it through with her TV-viewing habits.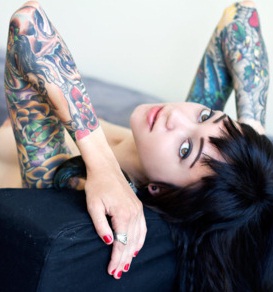 When Rachelle Suicide flowed into my inbox last week, I was sure that she would make it to Suicide Monday… and here she is. However, her presence isn't without a bit of disappointment: see, despite the kickass T-shirt, I'm not so sure that she's an actual fan. Still, she like old-school rap and has great taste in film and she likes a few of our favorite authors. Yeah, even if she shops at Target, we'd still like to curl up with her on a rainy Sunday, watch some horror flicks and re-read our favorite passages from Choke… wait, wait, wait, that sounded way too mushy. On a rainy Sunday, we'd love to go get inked with her, then go hang out at the local cemetery to make fun of all the dead people.
Don't forget to click on the images for a larger version.
---
Age: 27
Location: Colombia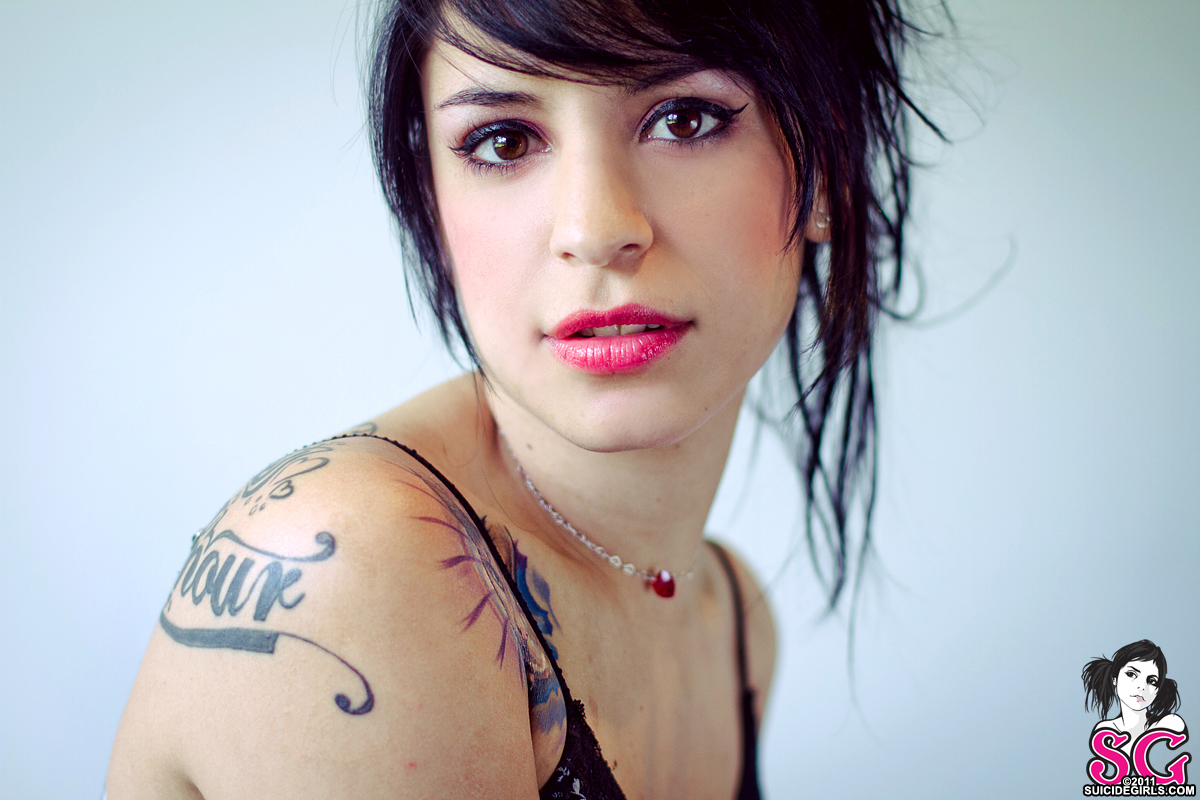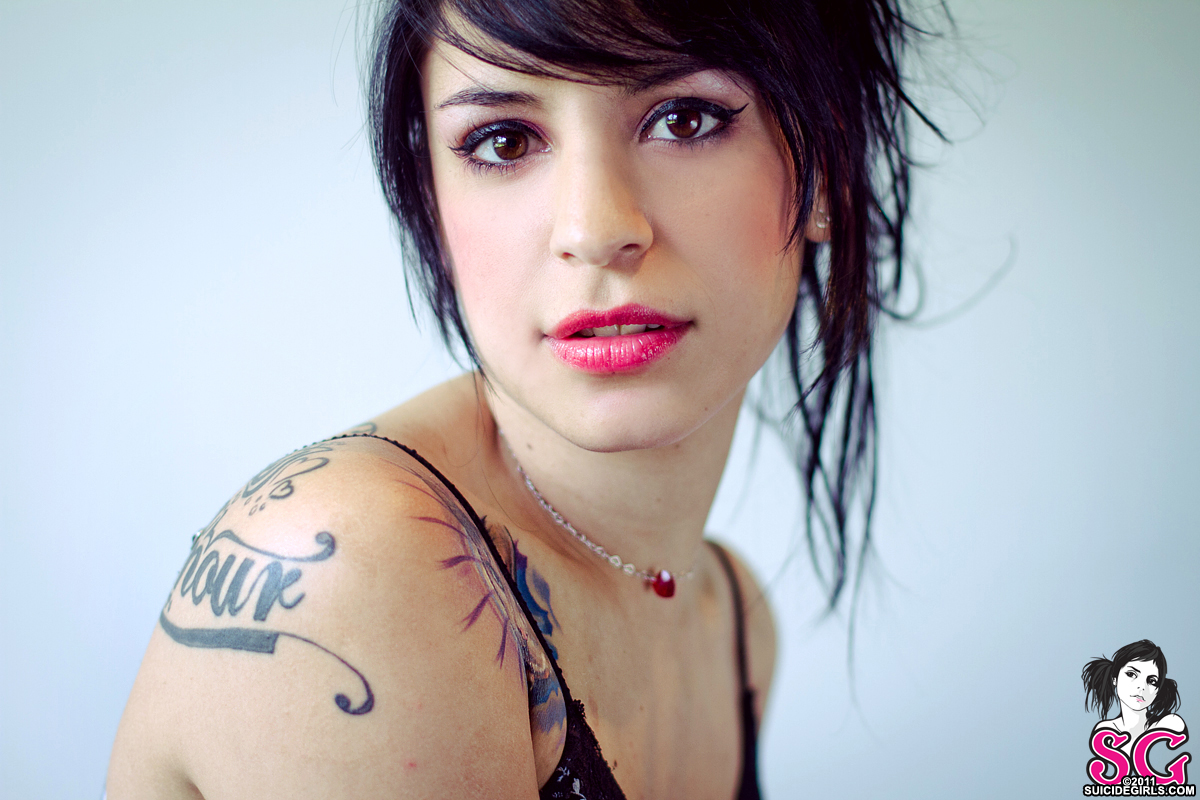 Into: Animals, photography, tattoos, body piercings, natural beauty, love and eternal love, sex, chocolate, sushi, movies, skirts, dresses, black hair, black color, converse, pin-up style, 50s, 60s, 70s, 90s, socks, nature
Not into: Dead animals, lies, taking the trash out, drama, irresponsibility
Makes me happy: Getting a new tattoo, my boy, cute animals, love, SBX, kisses, 100% sincerity, exercise, sushi, weekends, tattoos, sex, my music, underwear, chocolate, cooking with SBX, good job, true, apple, iPhone
Makes me sad: Lies, cheat, suffering animals, workig late or weekends, banks, negativity, PC, silence, bad weather, can't do exercise
Hobbies: Sleep, movies, design, Internet, photography
5 things I can't live without: My music, iPhone, love, animals, fruit juice
Thoughts on SG: I love it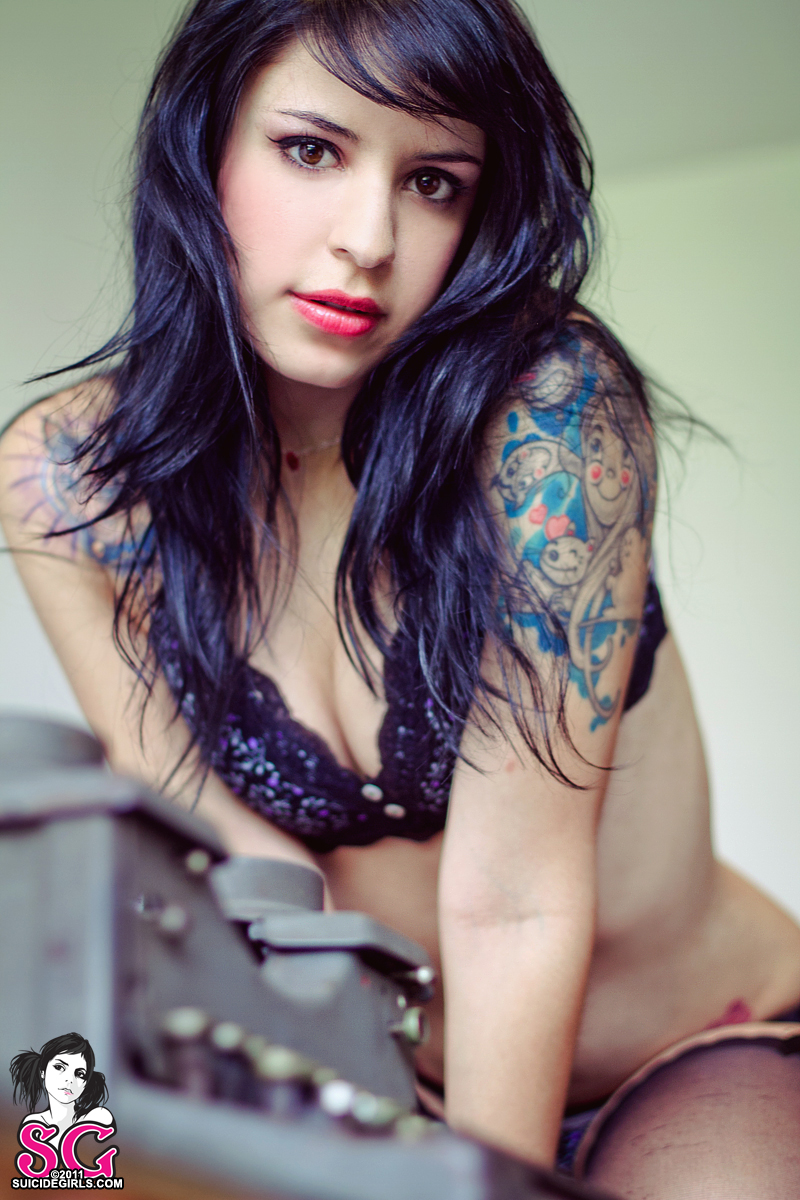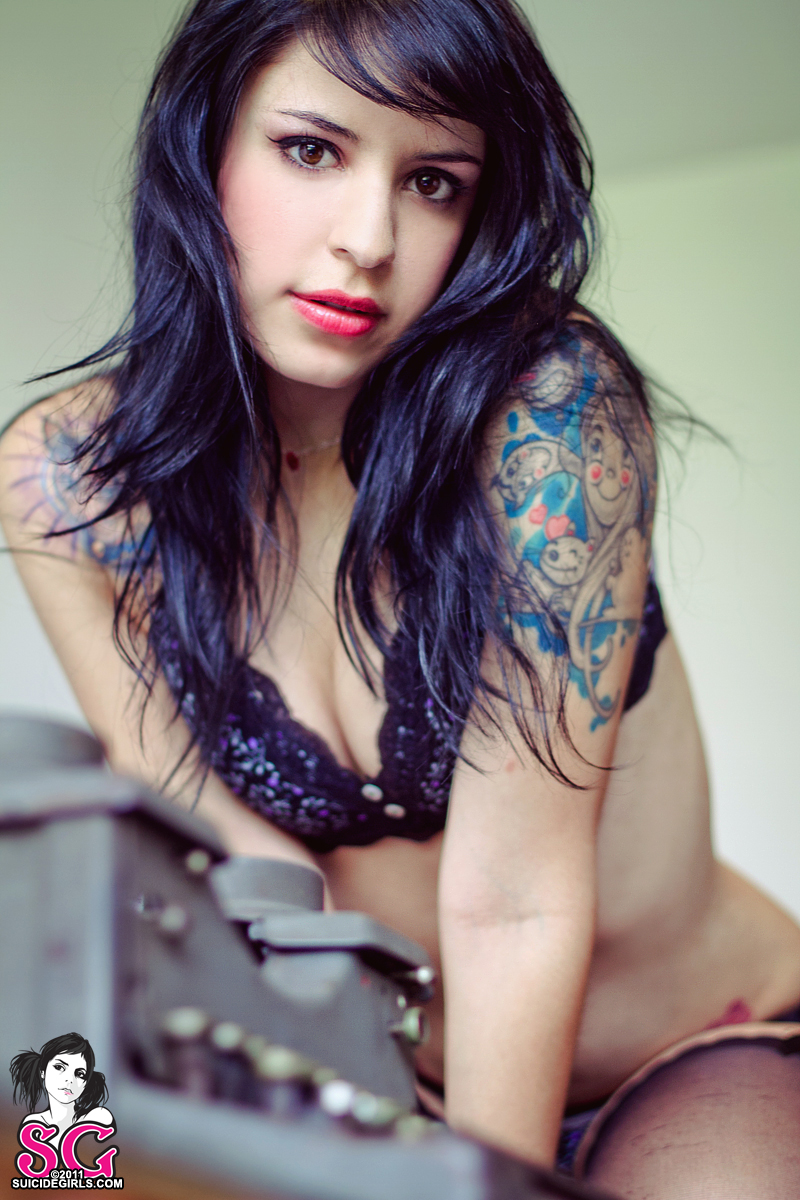 Bands: korn, Jack Johnson, Foo Fighters, Incubus, Pink, Linkin Park, Nirvana, Marilyn Manson, Chevelle, Deftones
Films: Finding Nemo, Sweeney Todd, Pirates of the Caribean, Megamind, Just Married, Ratatouille, The Hangover, Monsters Ink, Toy Story, Requiem for a Dream
TV shows: How I Met your Mother, House MD, Spartacus, The Simpsons, Futurama, The Walking Dead, Mythbusters, Dexter, The Fairy OddParents, True Blood
Suicide Monday continues with Rachelle Suicide after the jump…