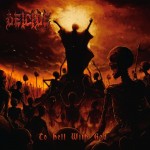 Sweet Jesus, the progenitors of death metal, Deicide, are gearing up to unleash hell on Earth with a new album, To Hell With God (Century Media Records), on February 15th. On February 4th, the third and final sneak-peek track — "How Can You Call Yourself A God?" — was made available for public consumption, and all we can say is that it's a blasphemous ripper.
Deicide – How Can You Call Yourself A God?

If this track, along with the two others that were released early ("Into The Darkness You Go" and "Hang In Agony Until You're Dead"), is any indication, To Hell With God is going to reclaim Satan's throne for Deicide, not to mention death metal supremacy. Sure, they're in their 40s, but Glen Benton still delivers growling vocals from the bowels of hell, Steve Asheim provides pulse-pounding rhythm, and Jack Owen and Ralph Santolla shred with lyrical and bone-crushing precision. For me, the solos and the intricate drumming are the fish hooks, but the chorus is addictive and I found myself chanting it long after my first five listens. The great thing about this new track from Deicide is the fact that it remains death metal while simultaneously appealing to my thrash preferences.
Deicide – Into The Darkness You Go

Deicide – Hang In Agony Until You're Dead

Deicide is also touring to support To Hell With God on their God Is Dead – To Hell With God tour, which also features Belpheor, Neuraxis, Blackguard and Pathology. The tour kicks off on February 15th, the same day the album drops. Check the schedule below and don't miss your chance to see these death metal giants at work:
Deicide: God Is Dead – To Hell With God Tour Dates
Feb. 15 – Atlanta, GA – The Masquerade
Feb. 16 – Charlotte, NC – Tremont Music Hall
Feb. 17 – Raleigh, NC – Volume 11
Feb. 18 – Philadelphia, PA – The Trocadero
Feb. 19 – Rochester, NY – Montage Music Hall
Feb. 20 – Providence, RI – Club Hell
Feb. 21 – New York, NY – The Gramercy Theatre
Feb. 22 – Quebec City, QUE – Imperial de Quebec
Feb. 23 – Montreal, QUE – Cafe Campus
Feb. 24 – London, ONT – Music Hall
Feb. 25 – Toronto, ONT – Opera House
Feb. 26 – Chicago, IL – Reggie Rock Club
Feb. 27 – Detroit, MI – Blondie's
Feb. 28 – Louisville, KY – Headliner's Music Hall
Mar. 01 – Tulsa, OK – Marquee
Mar. 02 – Denver, CO – Bluebird Theater
Mar. 04 – Seattle, WA – El Corazon
Mar. 05 – Portland, OR – Hawthorne Theatre
Mar. 07 – Las Vegas, NV – Cheyenne Saloon
Mar. 08 – Los Angeles, CA – Key Club
Mar. 09 – San Diego, CA – Brick By Brick
Mar. 10 – Tempe, AZ – Clubhouse
Rock Hard!