Slipknot will release their fourth studio album All Hope Is Gone later this month, but the band has teased fans by making two songs available at Slipknot1.com. If these two songs, "All Hope Is Gone" and "Psychosocial," are any indication, Slipknot fans are in for some metal that's as raw as a freshly butchered bovine. Fans will also be happy to see that Slipknot has made good on their promise of putting out an album that ranks among their heaviest, and one that expands on their thrash metal guitar work and vocal melodies. Corey Taylor has stepped away from lyrics that reflect his own life, choosing to turn his focus to what's wrong in life. Of All Hope Is Gone, Taylor has said that it is "very dark" and that "It's going to rip your face off… I don't think the world will be ready for this album." Slipknot fans will be the judge of that.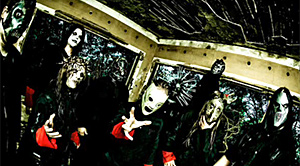 "All Hope Is Gone" opens with enough drum and percussion to send any WW II vet into shellshock and back to Normandy before it breaks into frantic guitar riffing and an outright vocal assault. There is a speed metal solo on this track that seems to belong like a white kid in South Central, but after several listens it grows on you and serves as a nice breather before getting slaughtered by some more skull-crushing metal. We first hear the bridge of "All Hope Is Gone" at 2:27; it's a more rhythmic grind that'll send a calming wave through the crowd, causing fans to retract their fists and throw up their horns. Being that "All Hope Is Gone" lyrically deals with America's paradoxical situation on a global scale, perhaps fans should throw up a peace sign.
"Psychosocial," my preferred track between the two, relies heavily on tradition metal elements. Hitting you hard with a sonic intro before leaping into a head-swinging/fist-thrusting verse that's sure to leave a pit weak in its knees, "Psychosocial" aims to please with its metal muscle supported by pop sensibilities. "Psychosocial" is sure to be the track that will garner Slipknot a fresh lineage of fans, just as it's sure to be the guilty-pleasure track for the die-hard fans. Joey Jordison has a sweet slow roll during the chorus and Taylor breaks into a more mainstream vocal styling, all of which contribute to the soft touch of this track. Still, I can see our soldiers blasting this anthem as they drop bombs in the desert.