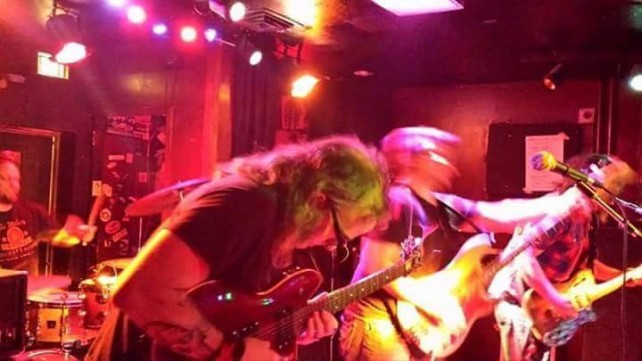 The top of the track is a bit strange, almost invoking some sort of avant-garde jazz-infused metalcore (a genre which this is not). But just a few short moments later it turns into a cathartic purging so visceral you'll want to scream along with guest vocalist Patrick Auclair (ex Taken By The Sun).
Today, Chicago-based metal act, Scientist, have revealed the latest track from their forthcoming album, 10100II00101. Head on over to Cvlt Nation to stream the new song, "Physician Heal Thyself."
10100II00101 will be released on CD and digitally via the band's official BandCamp page on December 11, 2015, and on double LP via Hell Comes Home Records at a later date.
About the album, Scientist's founding guitarist/vocalist Eric Plonka (ex Yakuza) says:
Stavros recorded his vocals at home and turned them in on the deadline date. True to form, we didn't hear his parts until the CD was finished! It's one of our more cryptic undertakings with fuzz jutted guitars, crunchy bass and interestingly strange drum patterns. It's built around the concept of this: before attempting to correct others, make sure that you aren't guilty of the same faults.
10100II00101 is Scientist's 11 track follow-up to their lauded self-titled debut. Tracked at Minbal Studio, engineered by Sanford Parker (Minsk, Corrections House, Buried At Sea) and mastered by Collin Jordan (Eyehategod, Indian, Wovenhand, Voivod, etc.) at The Boiler Room, the eclectic production boasts a variety of guest vocal appearances Andre Almarez of Pale Horseman, Anthony Cwan of Without Waves, and James Clayton Bowman, as well as a lap slide guitar cameo from Jeff Lyman of Dance Bullies.
As a precursor to its official unveiling, the band will play a special record release show on their home turf alongside Yakuza, Sanford Parker's Two From the Eye and Mars Williams' (The Psychedelic Furs) XmarsX this Saturday at The Empty Bottle in Chicago with additional live exhibitions in their plotting stages.
Rock Hard \m/