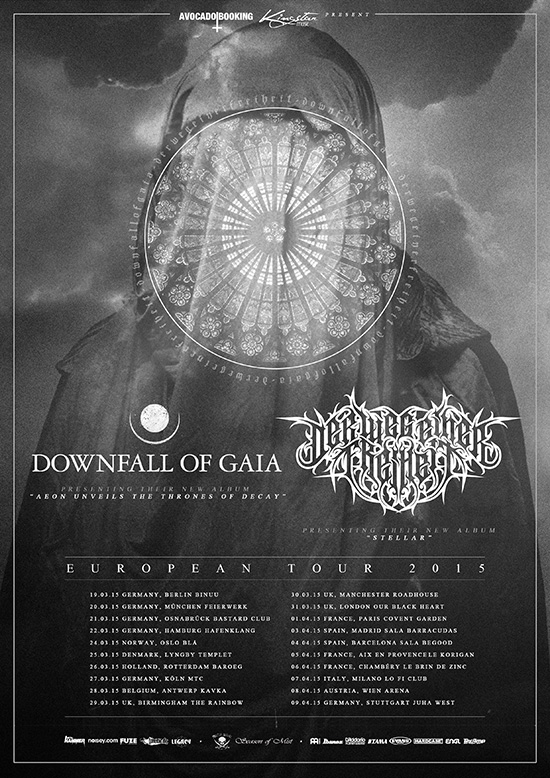 Two of today's best European extreme metal bands, Downfall Of Gaia and Der Weg Einer Freiheit, are teaming up for a crushing co-headlining tour in March and April of 2015. Unfortunately for us elsewhere, the tour is limited to dates in Europe. See below for the list of dates and locations.
Comments Metal Blade recording artists Downfall of Gaia:
Time runs way too fast! When this tour will hit the road it's almost nine months ago since we played a show in Europe. Even if some time off of the road was needed – that's way too long! So all of us are pretty happy to be back on the streets and to play some of our favorite European cities together with Der Weg einer Freiheit, one of the most interesting bands out there!
Downfall of Gaia and Der Weg Einer Freiheit Tour Dates:
19/03/15 DE – Berlin – BiNuu
20/03/15 DE – München – Feierwerk
21/03/15 DE – Osnabrück – Bastard Club
22/03/15 DE – Hamburg – Hafenklang
24/03/15 NO – Oslo – BLÅ
25/03/15 DK – Lyngby – Templet
26/03/15 NL – Rotterdam – Baroeg
27/03/15 DE – Köln – MTC
28/03/15 BE – Antwerp – Kavka
29/03/15 UK – Birmingham – The Rainbow
30/03/15 UK – Manchester – Roadhouse
31/03/15 UK – London – Our Black Heart
01/04/15 FR – Paris – Covent Garden
03/04/15 ES – Madrid – Sala Barracudas
04/04/15 ES – Barcelona – Sala Begood
05/04/15 FR – Aix En Provence – Le Korigan
06/04/15 FR – Chambéry – Le Brin De Zinc
07/04/15 IT – Milano – Lo Fi Club
08/04/15 AT – Wien – Arena
09/04/15 DE – Stuttgart – Juha West
Downfall of Gaia released their second album for Metal Blade, Aeons Unveils The Thrones Of Decay, in November 2014. The album is a story about time and its relentless sides. A journey to the dark sides each individual has to fight on a day-to-day basis. Time in its majesty is an unbeatable enemy and all of us human beings have to deal with loss, unexpected changes, and dealing with unwanted circumstances. As a slave to time, mankind is marching to the beat of a ticking clock. Musically the album gives you less time to breath and a more aggressive songwriting than on their previous releases, as aggressive and relentless as time itself!
Rock Hared \m/